YOUNG CHEFS Training Academy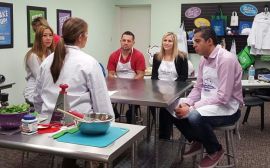 YCA has developed a strong training program to get our franchisees off to the right start. Our hands on initial training supports our operations manual so that each new franchisee represents our brand to the standard of quality associated with YCA. All new Young Chef Academy Franchise Owners receive on-site training followed by continual training throughout the franchise relationship.
Our initial training program is designed to prepare you to furnish you with the right tools to make your dream a reality and allow you to begin your business immediately after you successfully complete your training.
Through our wide-range of expertise, there is always someone to turn to for answers.