You know, most of us just can't pass up the ooey, gooey-ness of the classic chocolate chip cookie.
Imagine...you're walking into the house and you get hit with that sweet, chocolatey aroma that just jolts you in the direction of the kitchen. As that batch of cookies are pulled, fresh from the oven, your mouth starts to water and your taste buds start to tingle.
Well, it's kind of the same sensation when you smell bacon, right? It's just hitting the savory side of your buds.
Have we got a treat for all you bacon-chocoholics!! We've fused both of these undeniable flavors together to create a sweet and savory delicacy you just cannot refuse ~ The
Bacon-Chocolate Chip Cookie.

Let's Go Bake Up Some Fun!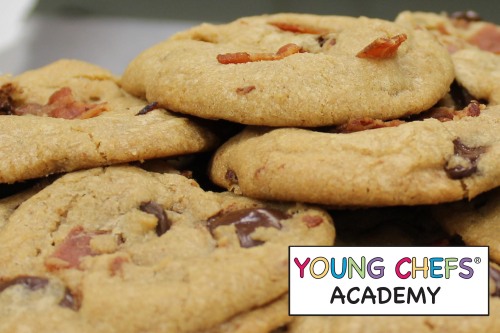 Bacon-Chocolate Chip Cookies
A Young Chefs

®

Academy Recipe
Ingredients
:
1/2 lb. smoked bacon, thick cut
2 cups all-purpose flour
1/2 tsp. baking soda
1/2 tsp. salt
3/4 cup unsalted butter, melted
1/2 cup dark brown sugar, packed
1/2 cup light brown sugar, packed
1/2 cup sugar
1 Tbsp. vanilla
1 egg
1 egg yolk
1 cup bittersweet chocolate chips
1/2 cup semisweet chocolate chips

Instructions
:
Preheat the oven to 325° F. Line 2-3 cookie sheets with parchment paper. Set aside.
Slice the bacon into 1-inch pieces. Place the bacon in a cold cast iron skillet and set over medium heat. Once the bacon sizzles, begin to stir until the bacon is crisp and golden brown. Remove from the pan and drain on a plate lined with paper towels. Chop when cool.
Sift the flour, baking soda and salt together and set aside.
In the bowl from the stand mixer, cream together the melted butter and all sugars until well blended. Beat in the vanilla, egg and egg yolk until light and creamy.
Mix in the sifted ingredients until just blended. Stir in the chocolate chips and chopped bacon by hand using a wooden spoon.
Drop cookie dough 1 tablespoon at a time onto the prepared cookie sheets. Cookies should be about 3 inches apart.
Bake for 15 to 17 minutes in the preheated oven, or until the edges are lightly toasted. Cool on baking sheets for a few minutes before transferring to wire racks to cool completely.
Yield: about 4-5 dozen cookies