We are so excited about the release of Disney•Pixar's "COCO!" The story shares of the passion possessed by a young boy to follow his dreams amongst the many obstacles that surround him. Our young chefs can relate as they aspire to master the joy and value of cooking, whether it's to become the next celebrity chef or to simply learn the lifetime skills of the culinary arts.




In Disney•Pixar's "Coco," aspiring musician Miguel (voice of Anthony Gonzalez) teams up with charming trickster Héctor (voice of Gael García Bernal) on an extraordinary journey through the Land of the Dead.

When we were approached by representatives of Disney•Pixar to host COCO-inspired events at select locations, we jumped head first into our kitchens to create an exciting hand-on culinary event around the November 22, 2017 movie release. Each event will take you on a hands-on, culinary adventure signifying the culture and experience of the movie itself.


Reminiscing about the good ol' days....

As most of us do in the kitchen when cooking with family and friends, we reflected on the past as we worked together in the kitchen. Fond memories of our past national partnership with Disney•Pixar were recalled when we were presented with the opportunity to help promote the release of Ratatouille® (remember the lovable rat, Remy, as he searched to realize his dream of becoming a chef?).

Through the sponsorship of The Big Cheese Tour to hosting Open House Events in communities across the US, Young Chefs® Academy brought the magic to life in our kitchens.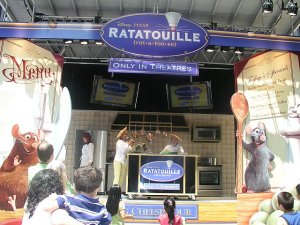 Disney•Pixar "COCO" inspired Workshops (in select markets)...

This year, the COCO-inspired workshops will include tasty recipes influenced by the movie. (Click here to find a participating location near you!)

But of course, we didn't stop there! While we were at it, we were determined to develop a delicious recipe we could share with all of you that celebrates COCO's main character, Miguel, and his heritage, but to also create a beautiful dish worthy of the upcoming holidays....Dulce de Leche Cheesecake.

This easy recipe returns gorgeous results...not to mention each bite is met with melt-in-your-mouth, creamy goodness. Without further ado, let's get started!

How many times have you been knee-deep in a recipe, only to find you're missing a key ingredient? That's why we teach our young chefs how important it is to be prepared before you get started.

First, let's start with mise en place (French term for "everything in its place").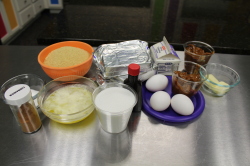 Now we're cookin'!

Everything simply falls into place with this recipe. But there are a few tips that can help you produce top notch results. Here goes!

TIP 1:
Make sure all of your ingredients are at room temperature otherwise you could end up with a lumpy cheesecake!

TIP 2:
Instead of using a stick of butter to grease your pan, simply use the wrapper left from your softened butter to grease your pan.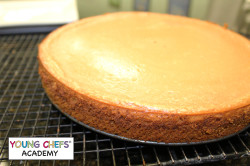 TIP 3:
If you'd rather use a stand mixer for the filling, use the paddle attachment as this produces less air (more air = more cracks!). But be sure not to over-mix! Over-mixing can create air pockets causing cracks in your cheesecake. You want a smooth, glossy finish.

TIP 4:
The steam when using a roasting pan of water helps keep the cheesecake moist and prevents cracks. However, you will be covering the cheesecake with a glaze, so don't dispare if a crack or two appears!

TIP 5:
You've heard us say this over and over but do not open the oven during baking time! This reduces the temperature and can cause your cheesecake to sink or crack.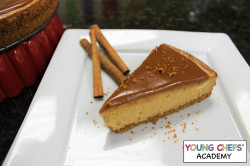 And there you have it...rest easy my friends....this little goody will be one of the first recipes to disappear from the holiday table.

Delicioso!!


---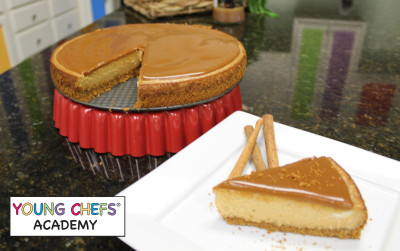 Dulce de Leche Cheesecake

Ingredients:
For the crust:
2 1/4 cups graham cracker crumbs (about 17 whole graham crackers)
2 Tbsp. sugar
1/4 tsp. cinnamon
10 Tbsp. butter, melted
For the Filling:
2 (8-oz cream cheese, room temperature
1 cup sugar
3 eggs
1/2 cup canned dulce de leche
2 tsp. vanilla extract
For the Glaze:
2/3 cup canned dulce de leche
3 Tbsp. (or more) heavy whipping cream
Fleur de sel


Directions:
Preheat oven to 350°F. Generously grease a 9" springform pan with nonstick spray (bottom and sides).
For the crust: In the bowl of the food processor, pulse graham crackers until you have fine crumbs.
Mix graham cracker crumbs, sugar and cinnamon in a medium bowl. Add melted butter; stir until coated. Transfer crumb mixture to the prepared pan. Press evenly onto the bottom of the pan. Bake until crust is light golden, about 10 minutes. Cool completely on a rack.
For the filling: Wipe out the bowl of the food processor; blend the cream cheese and sugar in processor until smooth and creamy, about 1 minute, stopping occasionally to scrape down sides of the bowl. Be sure not to overbeat!
Add the eggs one at a time, processing 3 to 5 seconds to blend between additions. Add the dulce de leche and vanilla; process about 10 seconds. Spread batter evenly over cooled crust.
Place a roasting pan of water on the bottom rack and set the springform pan on the rack above that to create steam and prevent it from drying out.
Bake until just set in center and edges are puffed and center jiggles slightly, about 38 minutes. Transfer to rack; cool completely.
For the glaze: Heat the dulce de leche and 3 tablespoons cream in a microwave-safe bowl in 10-second intervals until melted. Stir to blend, adding more cream by teaspoonful if too thick to pour (the amount of cream needed will depend on the brand of dulce de leche).
Pour glaze over the cooled cheesecake and spread evenly. Refrigerate until chilled, about 1 hour. Lightly sprinkle bars with fleur de sel or sea salt.
---
About Disney•Pixar COCO:
Despite his family's baffling generations-old ban on music, Miguel (voice of Anthony Gonzalez) dreams of becoming an accomplished musician like his idol, Ernesto de la Cruz (voice of Benjamin Bratt). Desperate to prove his talent, Miguel finds himself in the stunning and colorful Land of the Dead following a mysterious chain of events. Along the way, he meets charming trickster Héctor (voice of Gael García Bernal), and together, they set off on an extraordinary journey to unlock the real story behind Miguel's family history.
Directed by Lee Unkrich ("Toy Story 3"), co-directed by Adrian Molina (story artist "Monsters University") and produced by Darla K. Anderson ("Toy Story 3"), Disney•Pixar's "Coco" opens in U.S. theaters on Nov. 22, 2017. For more information, check out http://movies.disney.com/coco, Hashtag: #PixarCoco, Pixar Coco Facebook, Pixar Coco Twitter and Pixar Coco Instagram.