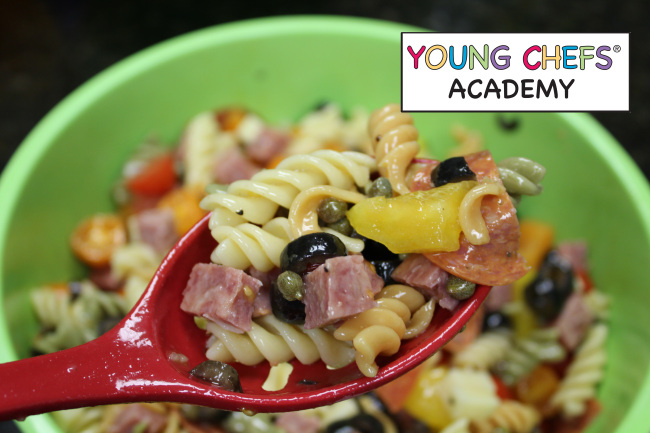 Ingredients.....check!
Notes....check!
Hair pulled back....check!
Hands washed...check!
Mise en place....check!
It's time to get started. The test kitchen at our corporate headquarters is one of our favorite places to be. We get the opportunity to test recipes that are created by our talented chefs with a roomful of our best critics, our young chefs.
And since it's still considered the season for outdoor activities, such as picnics and pool parties (yes, you can still do those things even with school is back in session!), we pulled a recipe from the past that was already "to-die-for" and made it extraordinary. The simplicity of this recipe also lends itself beautifully to a home-cooked dinner during our hectic, back-to-school schedules. Simply add a piece of grilled French bread, and you have a tasty & nourishing meal!
Now, you might say..."It's just pasta salad...what's so great about that?"
And we would say, "Just wait....just wait...you'll get it when you taste it and realize how quick your family can pull this delicious concoction together!" If you split up the tasks among family members, you could have this together in no time flat!
We also LOVE a striking plate so we added a spectrum of color to this dish: garden pasta, a variety of grape tomatoes, two different sweet bell peppers and olives. The capers add even more contrast as well as a hint of salty flavor that compliments the sweetness of the tomatoes and peppers. Hindsight being 20/20, we probably should have added a few leeks to this recipe to give it even more of a kick but that will have to wait for next time....until then... : )
We'd love to see your pasta pics! Share yours on our Instagram @youngchefsacademy !!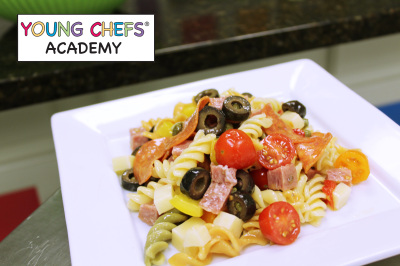 Incredible Mediterranean Pasta Salad
Rating: Two thumbs up from our test kitchen "young chefs!"
Ingredients
:
1 (16 oz) package fusilli or rotini pasta
1/2 pound provolone cheese, cut into 1/2" cubes
1/4 pound sliced pepperoni, cut into halves
1/2 pound salami, cut into 1/2" cubes
2 large bell peppers (red, yellow and/or orange), cubed
3 cups grape or cherry tomatoes, halved
1 (4 oz) jar pimentos, drained and chopped
1 (10 oz) can black olives, drained
1 (4.5 oz) non-pareil capers
9-10 oz of Champagne dressing *
Instructions
:
Bring a large pot of lightly salted water to a boil.
Add pasta and cook for 8 to 10 minutes or until al dente or just slightly underdone.
In a large bowl, combine pasta with tomatoes, cheese salami, pepperoni, bell peppers, olives, pimentos and capers. Pour in salad dressing and toss to coat.
Serve right away or refrigerate and toss before serving.
Yield: approximately 10 servings
* We tested this recipe using Girard's Champagne Dressing vs. the traditional Italian or vinaigrette.
Tips for making pasta salad:
It's important to cook your pasta until al dente (cooked, but firm to the bite...not mushy). The trick is to ensure your pasta is not cooked too long it will absorb some of the dressing and could lead to mushy pasta.
This recipe makes quite a bit! Half the recipe for a smaller batch that will easily feed a family of four!
If testing your own pasta creation, be sure to use pastas that will easily trap the dressing for maximum flavor in each bite. Think "short and small" when choosing your noodles.
Add even more veggies to your pasta salad, such as asparagus, broccoli, and carrots. Saute, roast or blanch your veggies you don't want raw and then toss into ice cold water to stop the cooking process and allow them to remain crisp.
Don't cut your pieces too small as it's hard to get a little of everything in each bite...you'll end up chasing what you want around on your plate!