Let's face it...the holidays turn us all back into children as humdrum days transform into something magical. Joyful music fills the air, homes light up with a warm glow, and nostalgic memories of families and friends come flooding into our minds.

It's also the time we get really busy in the kitchen...am I right? Forget visions of sugarplums...it's visions of warm, winter meals and luxurious sweets that dance in our heads.

With our Young Chefs tackling holiday baking this month, we thought we'd join in on the fun and share a few festive indulgences of our own each week that put the "ummmm" in "scr-ummmmm-ptious".

To kick off our weekly treats, here's an easy holiday goody featuring the time-honored candy of Winter ~ the Candy Cane. By adding this to our sweet, cream cheese frosting, you'll have a rich, delicious treat to adorn those succulent, chocolatey brownies.
So slap on the ugliest holiday sweater you can find, turn up the music, and let's get baking!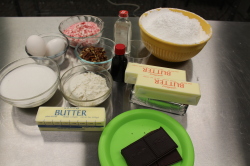 We mention it often, but this is a stress-saving tip we incorporate anytime we start a new recipe ~ Mise en Place (everything in it's place). This is a hard-and-fast rule our Young Chefs practice every day. By having all of your ingredients measured and accounted for, you're ensuring you have everything you need which allows time to focus on the task at hand.
While it's important not to over-mix your brownie mixture (which could result in tough brownies), this does not necessarily apply to mixing your frosting. The more you mix your frosting, the lighter and fluffier the final product will become.

Once you have your brownies frosted, sprinkle on a little of the crushed candy canes for a colorful presentation.

That's all there is to it! Now all that is left is to grab a fork and dig in!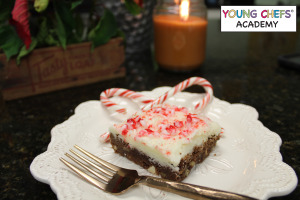 ---
Candy Cane Cream Cheese Brownies

Ingredients:

For the Chocolate Brownies:
1 (1-oz) unsweetened baking chocolate square or wafers
1 (1 oz.) semisweet baking chocolate square or wafers
1/2 cup butter, softened
1 cup sugar
2 eggs
1/2 cup flour
1/3 tsp. salt
1/2 tsp. vanilla extract
1/3 cup pecans, toasted and chopped (optional)
1/3 cup semisweet chocolate chips

For the Candy Cane Cream Cheese Frosting:
1 cup unsalted butter
1 (8 oz.) pkg. cream cheese
1 1/2 tsp. pure vanilla extract
1/4 tsp. pure peppermint extract
4 1/2 - 5 cups confectioners' sugar
6 full-size candy canes, crushed

Directions:


To make the brownies: Preheat oven to 350 degrees and place a cookie sheet or pizza stone on the middle oven rack*. Coat a 8x8 baking pan with cooking spray.
Microwave chocolate squares in a small glass bowl on Medium for 1 1/2 minutes or until melted. Stir until smooth.
Beat butter and sugar at medium speed until light and fluffy. Add eggs, one at a time, beating just until blended after each addition. Add melted chocolate, beating just until blended.
Add flour and salt, beating at low speed just until blended. Stir in vanilla, pecans (optional) and chocolate chips.
Spread batter into baking pan.
Place the pan on top of the preheated cookie sheet or pizza stone. Bake for 40 minutes or until set. Cool completely on wire rack.
To make the Frosting: While the brownies are cooking/cooling, beat butter on medium speed until creamy using an electric mixer with paddle attachment. Add the cream cheese, vanilla extract and peppermint extract and beat until fully incorporated.
Gradually increase mixer speed to high and continue beating until light and fluffy, scraping down the sides of the bowl as necessary.
Gradually add 4 1/2 cups confectioners' sugar, beating on low speed until combined. Increase speed to high until smooth while scraping down the sides as necessary ~ about 2 minutes.
Spread the frosting on top of the cooled brownies to desired thickness. Sprinkle with crushed candy canes.
---
Secret Brownie Tips:
Be sure to select a light-colored, shiny pan, which will conduct heat evenly. Glass or dark-colored pans can cause the edges or over-bake or even burn.
Always grease the pan thoroughly with shortening, softened butter, or cooking spray. (Do this even if the recipe doesn't specify.) After greasing the pan, many bakers like to line it with pieces of parchment paper or aluminum foil that have been cut larger than the size of the pan so that the edges hang over the sides like a sling. Thoroughly grease the lining. After the brownies have baked and cooled, the lining may be lifted out of the pan and inverted on a platter. Gently peel away the foil or paper, then cut the brownies into squares. If using aluminum foil, we love Reynolds Wrap Non-Stick Foil for best results.
Brownies can also be baked very successfully in a well-greased mini-muffin tin, which eliminates the problem of cutting into squares. It also provides a great means for portion control. Be sure to reduce the baking time to approx. 22-25 minutes. Check the brownies by inserting a toothpick. If it comes out clean, they're done!
Over mixing the ingredients can cause brownies to turn out tough or for a thin crust to form on top. Mix wet and dry ingredients just long enough to blend them, taking special care not to over-beat after the eggs are added.
Experience is the best guide, but here are some general rules. For fudge-style brownies, remove the pan when the sides have shrunk slightly away from the edges of the pan. The center will still be slightly gooey, but will firm up during cooling. Cake-style brownies are done when a toothpick inserted into the center has a few moist crumbs attached to it.
*To prevent burning the bottoms of your brownies, place the pan on a preheated cookie sheet or pizza stone.
Allow brownies to cool in the pan before cutting. Brownies will be easier to cut if you place the pan in the freezer for several minutes. Cut cooled brownies with a plastic or table knife to insure smooth-sided bars.