Thyme for Kids… a family, food, and franchising blog
Celebrating St. Patrick's Day with 3 Inspirational Irish Women; Catherine Fulvio, Clodagh McKenna, Rachel Allen
To celebrate St. Patrick's Day (March 17th), Women's History Month, and International Women's Day (March 8th), we turn to the Emerald Isle -- and rejoice in all the culinary adventures the following chefs bring the world. These 3 women have emerged as Ireland's top chefs for their delicious douse on the stereotypical flames that Irish cuisine is only about boiled corned beef, cabbage, potatoes, and beer!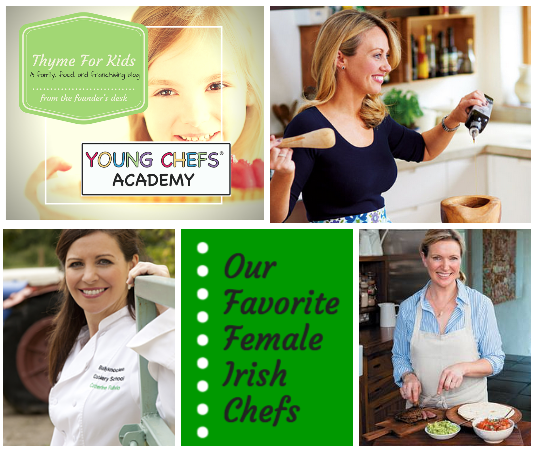 Clodagh McKenna
The lovely Clodagh McKenna is known for her take on "simple, delicious, family food" and we can see why - just made her cheddar cheese thyme scones with Irish Dubliner cheese and, yum! She runs two successful restaurants, appears weekly on the television show,
Ireland AM
, and contributes to a regular column in the Irish Times. Her sixth book, "Clodagh's Irish Kitchen," is out this month, just in time for St. Patrick's Day! See more about Clodagh here:
Clodagh McKenna
Rachel Allen
Maybe the most famous of the Irish chefs is Rachel Allen, from Dublin. She graduated, then taught at the Ballymaloe Cookery School, and worked as a caterer in Vancouver before she made celebrity status. Her popular television series airs in the U.K., Australia, and Italy (called
Rachel's Favourite Food
). The author of 4 best-selling cookbooks, countless articles, and newspaper columns, the more we see of her, the more inspired we are to make her recipes. Perhaps her
Irish stew with lamb chops
?
See Rachel's Facebook Page here:
Rachel Allen
Catherine Fulvio
Catherine Fulvio is another award-winning TV chef, author and proprietor of Ballyknocken House & Cookery School (www.ballyknocken.com) in County Wicklow, Ireland. We can't remember if we first saw Catherine on NBC's Today Show or maybe while in Ireland last year, but we love her laid back vibe and serious kitchen skills. She grew up on an Irish working farm (her food philosophy is "field to fork", a fun twist on "farm to market") and she puts huge emphasis on utilizing the best local and seasonal produce.
Read more about Catherine here:
Catherine Fulvio
About Women's History Month
The United States celebrates Women's History Month in March in order to highlight and celebrate the many historic and contemporary contributions of women to society.
http://womenshistorymonth.gov/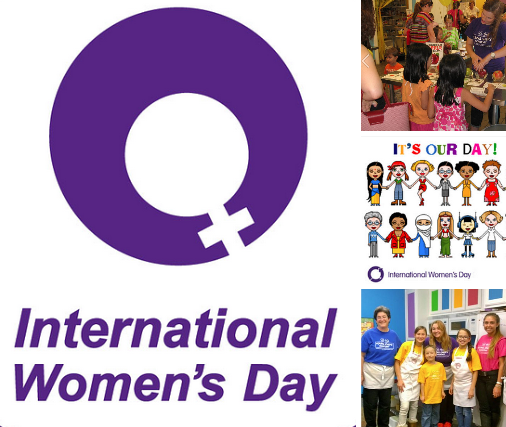 In honor of these March occasions, and our many women franchise owners, Happy St. Patrick's Day from the Young Chefs "Cookery School"!