Thyme for Kids.... a family, food, and franchising blog
The Young Chefs Academy Franchise Cooks Up 4 Reality T.V. Stars on FOX's MasterChef Junior, Food Network's Chopped Jr., & TNT's On The Menu!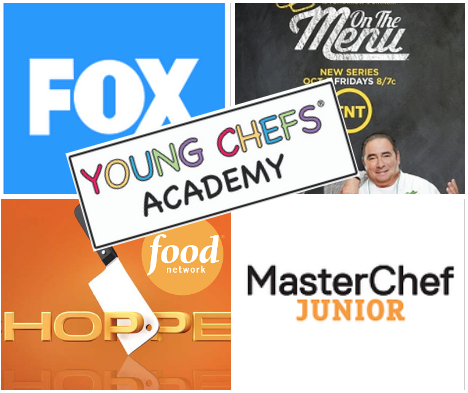 Stating the glaring obvious, we are into cooking shows around here.
Iron Chef, Cupcake Wars, Unwrapped, Rachael, Top Chef
… we watch them, record them, and discuss them all on a regular basis.
You can imagine how proud we are to report we have had three students and one franchise owner on three of the most exciting cooking shows on TV!
Mikey Robins was one of the youngest winners of Food Network's
Chopped
where Ted Allen via Twitter referred to him as the "most talented chef to ever compete on the show." He is also a cook book author, event planner and can be seen on Food Network's newest series, Kitchen Inferno. His mom, a YCA franchise owner, emailed us to share the exciting news and to credit his YCA experience for laying the foundation for his culinary skills. He's one young chef to watch!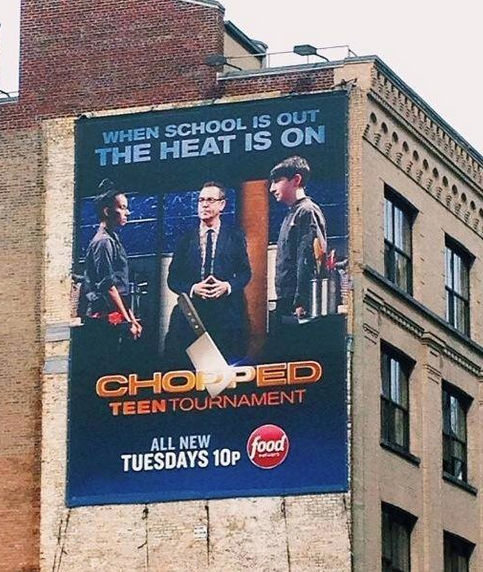 Mikey Robins on a billboard in NYC promoting the Chopped Teen Tournament!
In each episode of the show,
On the Menu
(featuring Ty Pennington and Emeril Lagasse), four home cooks battle for the chance to have their dish served in a national restaurant chain. Shayna Telesmanic, owner of Young Chefs Academy, Fresno won the Asian challenge. Competing against several talented chefs her winning dish (Vietnamese Meatball Sandwich) is now on the menu at The Cheesecake Factory! Incredible accomplishment!
The Cheesecake Factory Founder and Chairman David Overton, Chief Culinary Officer Donald Moore, Shayna, Emeril Lagasse, & Ty Pennington
Josh Reisner made it onto season 2 of FOX's
MasterChef Junior
(if you haven't seen the show yet, we promise it's the most heartwarming feel-good cooking competition show so far). He has been attending cooking classes at Young Chefs Academy, Forest Hills, NY since 2009. He is now bringing his culinary expertise and magnetic personality to YCA as an instructor!
Young Chefs Academy Fort Worth's superstar is currently making the news as the youngest contestant to ever be on
Masterchef Junior
. Riley auditioned only a month after turning 8 years old and at the time of this publication, he is still going strong on season three of hit cooking competition series.

Josh with the cast of MasterChef Junior Riley with the cast of MasterChef Junior
TIME's James Poniewozik wrote about these shows, "Those Kids! One benefit of the mass foodie-ization of America: there is apparently a bumper crop of kids out there with more culinary knowledge than entire past generations of adults. Credit a shift in culture that has brought the whole family into the kitchen; credit a food culture–including shows like MasterChef–that's made food knowledge into mass entertainment."
Credit cooking school like ours for showing children cooking is a lifelong skill that can be artistic, creative, and fun!