Young Chefs Academy Franchisee Q & A
What is it really like to own this top children's franchise concept? What actual franchisees are saying about the Young Chefs Academy they operate and the positive impact that franchise ownership has had in their lives…



Featured Franchisee: Chris and Karen Chesleigh
How these Forest Hills, NY Young Chefs Academy Franchise Owners Enjoy Their successful family business…


| | |
| --- | --- |
| | |
| The Chew Cast | |
YCA: You were fabulous on ABC's "The Chew" celebrating Julia Child's 100th birthday! What was it like?
Karen: The Chew was an incredible experience. Everyone on the show was gracious and welcoming. When I say they did their homework, I really mean it, the process took months. I kept finding these crazy coincidences between myself and Julia. Let's not forget that she was the ultimate cooking teacher and I could only aspire to be as good as her. It is without question that she worked her magic in heaven to get me on that show. The icing on the cake was the day of the taping, when I found out she used that very same studio for her show and I got to stand in the same spot she did. It was such a gift to celebrate her 100 birthday in such an honorable way!




One student, Josh made it onto season 2 of FOX's MasterChef Junior. He has been attending cooking classes at Young Chefs Academy since 2009. He is now bringing his culinary expertise toYCA as an instructor as well!
| | |
| --- | --- |
| | |
| Josh, Karen, and Chris | |
YCA: Did you know Josh was a serious chef from his first class?
Karen: Yes, I knew he was special from day one. He had a very advanced pallet. It's not often you meet a 7 year old with such willingness to try new foods. Josh is also a perfect student, he's very respectful and I knew he really wanted to be in class. Any time we had a special event or media inquiry, we would call on Josh.

YCA: How did Josh's parents hear about YCA?
Karen: Serena Josh's mom noticed he had an interest and found us. It was love at first site for us. YCA: How often has Josh been coming to your

YCA: is he currently attending classes?
Karen: Josh has been taking weekly classes with us since 2009. During the taping of the show he did not attend classes because he was in California. After the show he decided he would like to help out in a instructor capacity. Gordon Ramsey is a tuff act for us to follow and Josh has so much to share with our students.




---
Featured Franchisee: Nora Lerner
How this Frisco, TX Young Chefs Academy Franchise Owner enjoys her successful family business…
| | |
| --- | --- |
| | |
| Young Chefs Academy Frisco owner - Nora Lerner | |
Q: How long have you owned a franchise?
I have owned a franchise for five years.
Q: Why franchising?
When starting up as a small business owner, there is so much to do. Franchising gives you some structure and takes care of some of the infrastructure you would need to create along the road.
Q: Why did you choose this particular franchise?
I have been cooking my entire life. It is very dear to me, so opening a Young Chefs Academy was the clear choice. I also admire the company's founder, Julie Burleson. She has given franchise owners a chance to teach kids of all ages invaluable life lessons with a rewarding concept that is both fun and fulfilling.
Q: Where did you get most of your advice/do most of your research?
My research was much more than sitting online or looking through city records, although I did plenty of that. I got to know my community by volunteering in the area and speaking with other professionals and franchisees. I also relied on my previous experience in corporate America.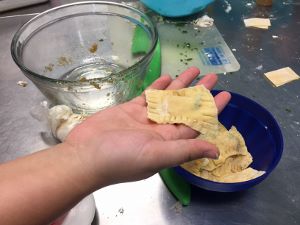 Young Chefs Academy Frisco pasta creation
Q: What advice do you have for individuals who want to own their own franchise?
Do it! My advice for individuals who want to own their own franchise is to choose one that you are passionate about and go for it.
Q: What's next for you and your business?
I plan to open multiple Young Chefs Academy locations in the area. Our curriculum doesn't stop at teaching kids how to cook. It opens the door to a new world of emotional and intellectual maturity for our students. I am very passionate about the way this concept touches people's lives in such a positive and lasting way, and I want to share that with more people.
Click for more on Young Chefs Academy Frisco in the Dallas Morning News