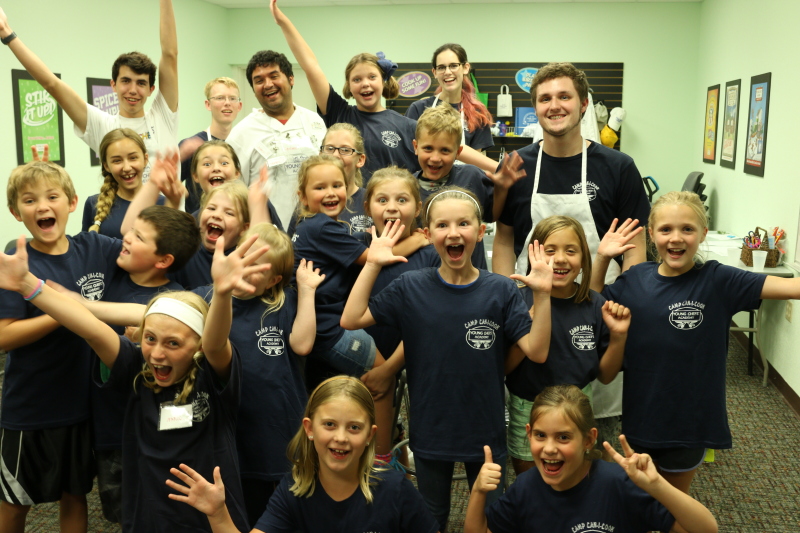 Summer Camp 2018

It's hard to think of now but before you know it Summer will be knocking at our door. The snow will melt, the sun will be shining and parents will be looking for something to avoid the boredom blues with more to experience than video games and cartoons. With so many options, it can be difficult to choose.
Young Chefs® Academy provides an interactive, fun alternative to the summer norm. Camp Can-I-Cook® camp experiences are filled with more than simply cooking a recipe.

What makes Young Chefs® Academy Camp unique?


3-hours of culinary FUN each day
Develop new culinary skills & techniques
Learn about unique cultural flavors, festive tips
Empower creativity to explore new discoveries with flavors and pairings
Experience new activities and focuses each day
Create new friendships through teamwork activities
Develop personal growth skills and confidence in the kitchen
Cultivate a life-long skill that can be carried with them their entire lives

And get this....no bug spray, sunscreen or packing required! We supply everything our campers need during each 3-hour, interactive day.

Our talented and expert curriculum team has been hard at work over the past several months developing new and exciting culinary adventures for summer. The creativity will be flowing during each camp experience allowing our budding young chefs to flourish.

And now...

it's time to reveal....

(drum roll, please)...
our exciting line-up of summer camp fun for 2018!!
---

2018 Summer Camp Themes

YCA Showdown: Chocolate Edition
Chocolate, sweet chocolate! Our Chocolate Showdown will be filled with friendly competition each day where our Young Chefs™ will master the art of chocolate. Surprises await around each corner where students will use their creativity to concoct some of the most delectable dishes.


YCA Showdown: Baking Edition

Teams will compete in a series of challenges each day after learning tips and tricks from the master chefs at Young Chefs® Academy! Sweet and savory will connect to bring the most delicious creations to life. Bring it on!!


YCA Showdown: Secret Ingredient Edition
Hummm….who knows what surprises await during this week's camp! What will each day bring? Only our young chefs will know once they unlock the secret ingredient of the day where, not only will they learn secrets of the trade, but will let their creative juices flow as they create unique dishes of their very own! Who needs a recipe!


The Cupcake Shoppe

Be the master of your very own Cupcake Shoppe as you learn design techniques and skills used to construct the most delicious concoctions that taste as great as they look!


International Culinary Tour
Haemul Pajeon, Ukoy, Hotteok? What do all of these have in common? They are delicious recipes unique to countries you will explore ONLY at Young Chefs® Academy during our International Culinary Tour! Come Taste the Journey!


It's a Summer Party!
Summer's not summer without a party! Join us as we party our way through summer with unparalleled festive and delicious dishes.


Summertime Treats
BBQ's, Picnics, Glamping…it's what summer is all about! Join us as we explore summer treats that are sure to beat the heat….and tantalize our taste buds!


Summer Road Trip
Have you ever dreamed of going on a culinary food trip through the United States? Join us as our taste buds travel and explore cuisines from coast-to-coast during this culinary escapade! Buckle up for adventure!



---

About Camp Can-I-Cook:
Camp Can-I-Cook is the place to be during special times of the year. Each camp consists of a three-hour session for three or four consecutive days (depending on each independently owned and operated franchise location). Campers will get to experience new tastes and learn to prepare recipes from various cuisines "with a twist".

Find a location near you at https://youngchefsacademy.com and save your space in our kitchen before they fill up!