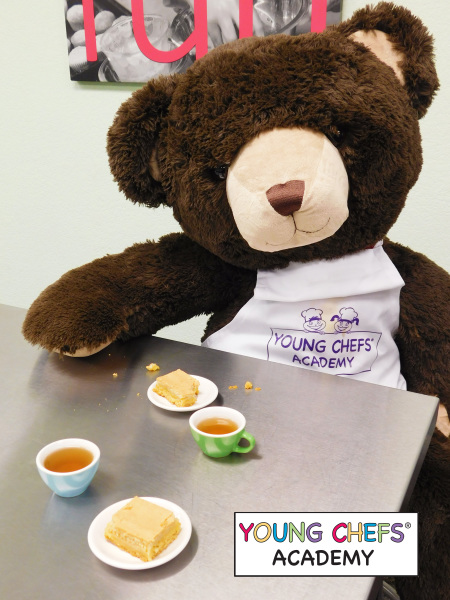 (Pictured above: Fozzy the Teddy Bear on location at Young Chefs Academy)

It's Teddy Bear Picnic Day and we invited a special guest to come help us make one of our signature recipes, "Grandma's Warm Milk Cake" from our KinderCooks® Collection for our indoor picnic today!

Meet Fozzy....he's new to cooking and baking but we knew he could handle it. This particular recipe is great for getting your youngest chefs involved in the kitchen!

Why?

Here are just a few of the cooking activities our KinderCooks practiced for this recipe:


Learning how to crack an egg ~ Just have a few extra eggs on hand to practice a few times. Here's how we crack an egg the YCA Way!
a) Start by cracking the egg on the table.
b) Place your thumbnails together, and gently place your thumbs into the crack.
c) Turn the egg sideways and pull the egg apart, allowing the egg to fall into the bowl.
Discard the egg shells, and ALWAYS remember to wash hands afterwards!
a) Hold the whisk as shown below
b) Using your wrist, make circles! Don't use your whole arm!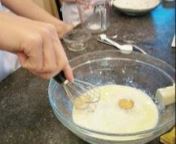 Master Measuring ~ There's so much to learn with measuring! Don't forget! Liquids need to be measured at eye level. Using the liquid measuring cup, pour the liquid into the cup. Have your child get eye level with the measuring marks. The liquid should be right at the mark, not above or below. Teach children how to measure basic wet ingredients with the liquid measuring cups and dry ingredients with measuring cups and spoons.
So let's get crackin' in the kitchen to make something special for your next Teddy Bear Picnic!
---
Grandma's Warm Milk Cake


Ingredients:
½ cup milk
2 Tbsp. butter, sliced
1 cup flour
2 tsp. baking powder
Pinch salt
2 eggs
1 cup sugar
½ tsp. vanilla
Directions:
Preheat oven to 350 degrees. Coat baking pan with cooking spray.
Heat milk and butter in the microwave on MEDIUM for 1-1½ minutes, until butter is melted.
Whisk together flour, baking powder, and salt in a medium bowl.
Beat eggs until fluffy. Add sugar beating well. Mix in the dry ingredients. Add butter and milk mixture; add vanilla.
Pour into baking pan and bake for 30-40 minutes or until done. Cool completely. Serve with Fresh Whipped Cream.
Note: To make cupcakes: Fill cupcake liners 2/3 full of batter and bake for 20 minutes. Makes 12 cupcakes.