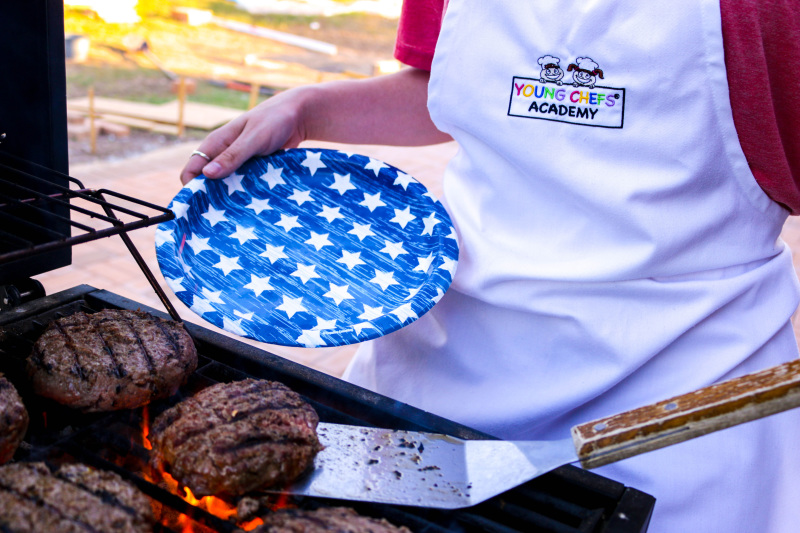 It's grilling season and we're ready to be the Pit Master at our next BBQ party! Nothing beats the aroma of freshly grilled meats and veggies in the great outdoors.

With hamburgers being among the top grilling favs this Memorial Day, why not take your burger to the next level and blow your guests mind with this cheesy, tangy patty melt version!
Come on!! It's time to throw on that "Kiss The Cook" apron and fire up the grill!


---

Grilled Patty Melt
Ingredients:
For the secret sauce:
¼ cup Dijon mustard
¼ cup mayonnaise
1 tablespoon barbecue sauce
½ teaspoon hot sauce
For the caramelized onions:
2 Tbsp. unsalted butter
3 medium yellow onions, thinly sliced
For the patty melt:
1½ lb. ground chuck (80/20)
2 tsp Worcestershire sauce
1 tsp kosher salt
½ tsp ground black pepper
12 slices sourdough or thick bread
½ cup Secret Sauce
1 cup caramelized onions
12 slices cheddar cheese
6 tablespoons unsalted butter
Instructions:
In a small mixing bowl, add all of the secret sauce ingredients; whisk together well. Cover and refrigerate until ready to use.
In a medium cast-iron skillet, melt butter over medium heat; add the onion. Cook, stirring occasionally, until onion is soft and golden brown, about 15-20 minutes. Remove from the heat and keep warm. (*See tips below for a grilled caramelized onion alternative)
In a large bowl, combine ground beef and Worcestershire. Shape into 6 oval patties, about ½-inch thick, making an indention with your thumb in the center of each one.
Mix the salt and pepper together in a small bowl. Sprinkle the salt and pepper over each side of the burger gently pressing into the meat to help it stick.
Grill the hamburgers directly over medium-high heat, turning once, 4 to 5 minutes per side. Check for doneness by checking the internal temperature, which should register at least 160°F on an instant-read thermometer. Transfer to a cooler side of the grill until ready.
Place bread slices along center of grill and cook, turning occasionally, until lightly toasted on first side, about 2 minutes. Flip bread slices so toasted side is up. Spread a tablespoon of secret sauce on each. Place 1 slice of cheese each on six of them. Place burger patty on top of cheese. Top with onion, another slice of cheese and top with the remaining slices of bread, toasted side facing in.
Cover and cook, opening cover every minute or so to turn sandwiches until well-toasted on both sides and cheese is melted. Remove from grill, allow to rest for five minutes, then serve.

Yield: makes 6 Patty Melts

*For a grilled version of the caramelized onions:
Slice onion into wedges and place onto one side of a large square of heavy-duty foil.
Add the butter and sprinkle with salt, pepper and garlic powder.
Fold the foil over the onions creating a tent over the onions and seal tightly.
Poke a small hold into the top of the packet and place onto grill.
Cook for approx. 45 minutes, or until the onions are golden brown, stirring halfway through.

---

Tips for THE ULTIMATE BURGER:


For the most flavorful, juicy burger, choose ground beef that has a relatively high percentage of fat. Fat adds significant flavor. Burgers usually cook at high heat, the fat helps to keep the inside of the burger moist as the outside of the burger browns. The hand-down winner for flavor and tenderness is ground chuck which is 15–20% fat – enough fat for full flavor but with minimal shrinkage during cooking. A higher fat count will give great flavor but excessive shrinkage.
Salt is an important ingredient most dishes, but when it comes to seasoning a burger, timing is crucial. Salt is prized not only for its ability to heighten the flavor of foods, but also for its effect as a tenderizer.
Since hamburger has been manually tenderized by grinding, it needs no further tenderizing. Adding salt too early in the hamburger-making process will break down the meat to the point where the cooked burger will be dense and gummy, with the consistency of sausage. ADD SALT TO THE BURGERS NO MORE THAN 30 MINUTES BEFORE COOKING.
A perfect burger begins with meat that is handled very little. Lightly shape the patty, making it slightly larger than the bread to allow for shrinkage.
Break off chunks of ground beef and press them into rough patties against the palm of your hand. Gently pat the edges into a round shape. The patty shape doesn't need to be perfect. Try to handle the meat as little as possible.
If you are cooking the burgers on a grill or oven broiling (radiant heat), add a dimple (about the size of a tablespoon) to the center of one side of the patty to keep the meat from puffing up during cooking. When cooking in a pan on the stovetop (conduction heat), there is no need to do this because the meat does not contract as significantly or quickly as it does when cooked by radiant heat.

Additional Tips:


Although it's exciting to hear the sizzle when you smash the spatula onto a cooking burger, DON'T DO IT. You're pushing all the juices out of the burger.
Give the burger time to rest after cooking – just a few minutes – for the juices to redistribute and settle in the meat.
Do not cut the burger open to determine how well it is cooked, this allows all the delicious juices to escape into the pan.
Wishing you all a delicious Memorial Day!!