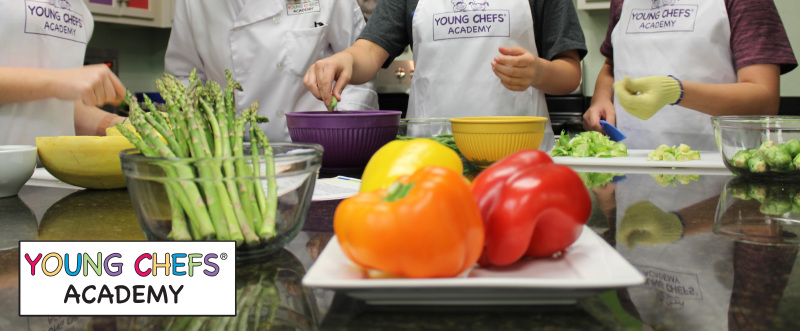 Did you know that by cooking with more natural, unrefined ingredients that you're actually taking an active role in saving our planet? Cooking and eating clean basically translates to eating more whole food rather than processed foods. Who knew you could eat deliciously and still be environmentally conscience?
Last month, our young chefs were tasked with crafting some pretty incredible recipes that were packed with health-giving flavor. Cooking clean & green does not mean sacrificing flavor...on the contrary! When cooked properly, healthy is tasty.

Using their knowledge of more wholesome alternatives, the students turned a traditionally classic, comfort dish into a "cleaner" version of its former self....Clean Gourmet Chicken Spaghetti...yummmm....
And, if you've never cooked with spaghetti squash, you haven't lived. It not only makes a great substitute for spaghetti noodles, it's packed with flavor.
So, let's throw away that frozen tray, bag or box of processed dinner options and get "mean and green" for Earth Day!
---
Clean Gourmet Chicken Spaghetti
Ingredients:
1 spaghetti squash
2 boneless, skinless chicken breasts, split in half
½ tsp salt
½ tsp freshly ground black pepper
2 Tbsp. butter
8 oz. cremini or white button mushrooms, sliced
½ yellow onion, diced
2 cloves garlic, thinly sliced
¼ cup white wine vinegar
2 Tbsp. whole-wheat flour
1 cup low-sodium chicken broth
½ (4 oz.) cup cream cheese
1 Tbsp. tarragon, chiffonade
1 tsp smoked paprika
Salt and black pepper, to taste

Instructions:
Preheat the oven to 400°F.
Cut the spaghetti squash in half, cutting through the stem and end of the squash. Scrape out the seeds. Place the squash cut side down in a baking dish. Pour about a cup of water in the bottom of the dish, just enough to cover.
Bake the squash until it can be easily pierced by a knife, about 30-45 minutes. Remove and cool until it can be handled easily. When cool, use a fork to separate the flesh of the squash into strands. Set aside until ready to use.
Season the chicken pieces with salt and pepper. Add the butter to a Dutch oven set over medium-high heat; allow it to get hot. Add the chicken breasts and cook for 4-6 minutes per side. Remove to a plate and keep warm.
Add the mushrooms and onions to the Dutch oven and cook until the mushrooms have released their liquid and are starting to turn brown. Add the garlic and cook until fragrant, about 30 seconds.
Add the vinegar and deglaze the pan, making sure to scrape up all the brown bits from the bottom of the pan. Let the vinegar reduce slightly.
Sprinkle the flour over the onion-mushroom mixture, stirring constantly to form a paste. Add the chicken broth; stir until it's a smooth sauce. Add more stock, if needed. Stir in the cream cheese until it melts and you have a thick, creamy sauce.
Slice the cooked chicken and return the chicken, squash and tarragon to the pot. Stir to combine. Cook until heated through, another 5-10 minutes. Sprinkle on the paprika right before serving, then taste and adjust seasonings. Serve while still hot.

Yield: about 4-6 servings