Young Chefs Academy Father-Son, Franchisee Duo Brings the Joy and Value of Cooking to Fruition in Bel Air!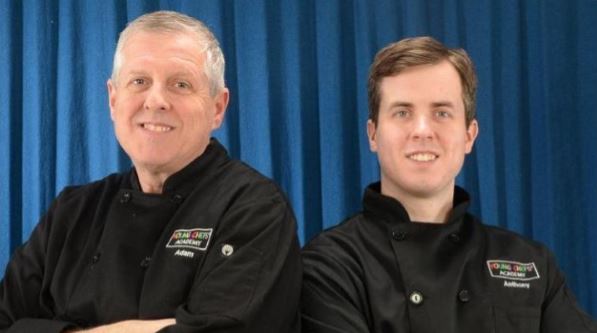 (pictured: Father/Son Due, Adam (left) & Anthony (right) Bell)

"Mise En Place" ~ a familiar term which means "to have all of your ingredients in place before cooking" ~ is heard in a chef's world daily.

When you think of what makes a business successful, what comes to mind? Several things, of course, having a good support team that also includes your family and friends on your side, is crucial to the success of your business, especially from the beginning.

That's where lifelong foodies, Adam Bell and son, Anthony, come into the picture. We can say this team has all the ingredients in place for a successful Young Chefs Academy franchise business ("Mise En Place!"). Due to Adam's passion for teaching and cooking, the Bell family made a practice of introducing their love of the culinary arts to their three children by including them in the process from an early age. This surely lead to Anthony's decision to attend the Culinary Institute of America and go on to becoming a pastry chef at the illustrious Greenbrier Resort.


With the mindset of striking out on their own, the father-son team began looking at alternative business ventures where they could thrive away from the corporate world. When looking at franchise opportunities, it was important to stay true to what they knew would drive them to succeed...the need to fulfill their dreams of enriching the lives of those within their community while feeding their foodie souls.
Enter Young Chefs Academy...
The team at Young Chefs Academy first met Adam during "Discovery Day"...a day that provides an opportunity for all to meet face-to-face and experience the culture of the company itself. And again, during the 5-day training camp at the corporate office...but this time Adam was accompanied by his main support system, Anthony. (Click here to find out about YCA's Training & support)
"We are so pleased to be the first Young Chefs Academy in Maryland," states Adam. "We see the joy on the young chefs faces everyday in classes, parties, field trips, and camps. The venture has been a very positive experience and the response from the community has been very exciting. We look forward to a fun filled year and plenty of cooking."

Father-Son Duo, Anthony and Adam Bell, hit the ground running mid-February during their soft opening hosting birthday parties, weekly classes, Spring camp and more. Already, the weekly class members of Bel Air have begun cultivating their culinary skill set as they progress through cooking challenges such as crushing, pureeing, chiffonading and emulsifying with more skills to learn each week.

Join Young Chefs Academy as we proudly welcome the newest addition to the franchise team in Harford County!
---
April 14, 2018 Grand Opening Event:


Young Chefs Academy of Bel Air will be hosting an exciting, interactive GRAND OPENING Event...FREE to the public!! Join Adam, Anthony and their team during this fun event where you'll get a "taste" of of the Young Chefs Academy experience!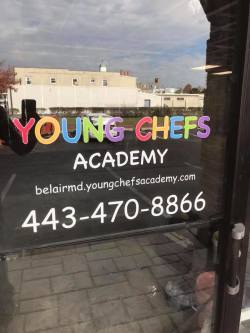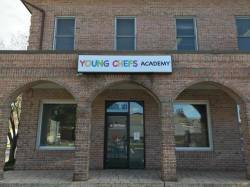 | | |
| --- | --- |
| WHEN: | April 14, 2018 |
| | 11:00 am - 3:00 pm EST |
| WHERE: | 130 North Bond St., #101 |
| | Bel Air, MD 21014 |
---
Check out more FUN with Young Chefs Academy of Bel Air as students share their love of cooking...
(Courtesy of WMAR-TV ~ Baltimore ABC)
(Courtesy of WBAL TV ~ Baltimore NBC)