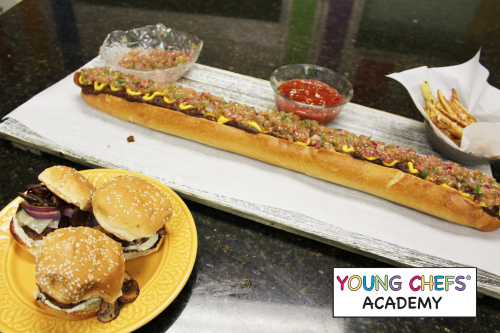 No matter who you're rooting for, game day food brings us together. This year, forget the traditional buffalo wings and cheese dip (although we do love these!). Call an audible and create these little, bites-of-heaven with our winning touchdown recipes that will have your guests drooling!

To get us started our test kitchen created a tastier version of the traditional slider....
Miso Mushroom Sliders with a flavorful aioli
Chili Dog Sliders with homemade Tomatillo Relish

Then we added a zesty side to top it all off:
Our Zesty Salt & Vinegar Fries with Chipotle Ketchup
These little goodies are easy to pull together just in time for the big kickoff!

Let's go TEAM!!


---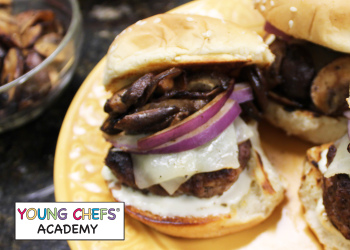 Miso Mushroom Sliders

Ingredients:

1/2 Red Onion
8 oz. mushrooms

Aioli:
1 cup mayonnaise
1 clove garlic, peeled
Pinch of salt
1 Tbsp. yellow miso paste
1 tsp. red wine vinegar
Burgers:
1 1/4 lb. ground chuck (80/20%)
1 Tbsp. yellow miso paste
1 Tbsp. hoisin sauce
1/2 cup shredded Parmesan
1/2 tsp. salt
1/2 tsp. pepper

Olive oil to brush on rolls
10 slider buns or rolls

1 tsp. olive oil

5 slices white cheddar cheese, sliced into quarters



Directions:


Cut mushrooms and red onion into thin slices. Set aside.
For the aioli: Mince the garlic and add a pinch of salt. Continue mincing the garlic and salt until it has become a paste. Use the side of the knife to press the two together. Once a paste has formed, transfer to a mixing bowl.
Add the mayonnaise, miso and vinegar. Whisk together well; cover and refrigerate until ready to serve.
For the burgers: Combine ground beef, 1 Tbsp. miso, hoisin, Parmesan, salt and pepper in a medium mixing bowl. Shape the meat into 10 balls. Flatten the balls so they are about 2 inches thick. Using your finger, make a small dimple in the middle of each burger. (This will prevent your burgers from bulging when cooked and create a more evenly flat burger.)
Heat a medium non-stick pan over medium-high heat. Brush cut side down of each bun with olive oil. Toast, cut side down, until golden brown for about 1 to 2 minutes.
Heat large skillet over medium-high heat and add 1 tsp. olive oil and enough patties to not overcrowd the pan. Cook for about 4 minutes, then flip and add mushrooms. Cook until mushrooms are brown and burgers reach a minimum internal temperature of 145 degrees ~ 4-5 minutes. Transfer burgers to a plate and top with 2 of the quartered pieces of sliced cheese.
Place a bottom bun on plate and top with the aioli, burger, mushrooms and red onion. Cover with top bun.
---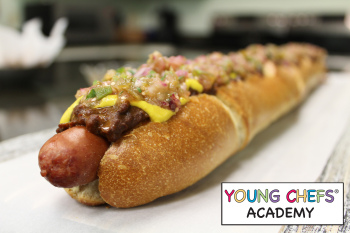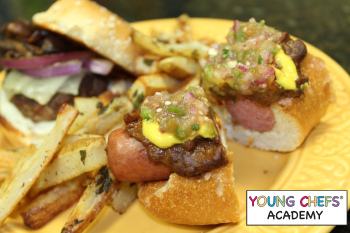 1st Down Chili Dog Sliders
Tomatillo Relish:
8 oz. tomatillos (~ 3 med.), finely chopped
3 Tbsp. fresh cilantro leaves, roughly chopped
1 Tbsp. lime juice (1-2 limes)
1 Tbsp. red wine vinegar
1 tsp. sugar
½ tsp. kosher salt
2 cloves garlic, minced
1 jalapeno, seeds and ribs removed if desired, finely chopped
½ medium red onion, finely chopped

6 all-beef sausages, grilled
10 oz. can of chili
Mustard
Baguette

Directions:
For the Tomatillo Relish: Mix together the tomatillos, cilantro, lime juice, vinegar, sugar, salt, garlic, jalapenos and onions in a large mixing bowl until well combined. Cover and refrigerate for 1 hour to allow the flavors to marry.
Cut a "V" shape out of the baguette and remove some of the bread to make room for the sausages and toppings.
To serve, line grilled sausages into the well of the bread. Top with chili, mustard and relish. Slice into bite-size pieces and serve.


---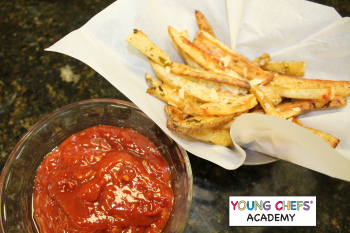 Salt & Vinegar Oven Fries with Chipotle Ketchup

Ingredients:


Fries:
4 cups Yukon Gold potatoes with skin, approx. 4 medium potatoes
4 Tbsp. olive oil
Salt
Parsley, chopped
Pepper
2 Tbsp. distilled white vinegar for soaking, plus 2 Tbsp. for sprinkling
Parmesan cheese for garnish
Chipotle ketchup:
½ cup ketchup
2 tsp. red wine vinegar
1 can chipotle pepper in adobo, finely chopped, plus 2 tsp. adobo sauce



Directions:
For the Chipotle Ketchup: Pour the ketchup, vinegar, chipotles and adobo sauce directly into a food processor and run until pureed. Refrigerate until ready to use.
For the Potatoes: Cut each potato into four slabs (depending on width) then cut again across those four slabs to make 1/2 inch stick shapes. The important thing is you keep as uniform in size as possible.
Soak the potatoes in enough cold water to cover. Soaking removes the excess starch and makes them crisp up when they are baked. Stir in 2 Tbsp. vinegar and place in refrigerator for at least 30 minutes up to overnight.
After soaking, preheat the oven to 450 degrees. Drain the potatoes and dry on paper towels. It's very important to remove the moisture so the potatoes will crisp in the oven.
Toss the potatoes on a baking sheet where they will be in a single layer, with the olive oil, salt, pepper and parsley.
Bake on the first side for 20 minutes, then flip and bake for another 15-20 until golden and crisp. Sprinkle with sea salt & 2 Tbsp. vinegar. Garnish with a sprinkle of Parmesan.
Yield: Serves 6