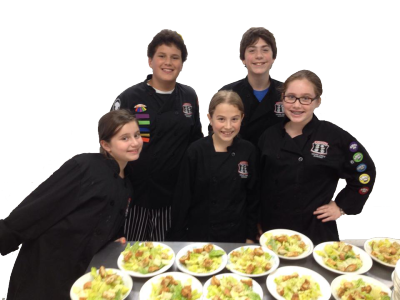 Culinary learning opportunities for children and teens were slim to none when Young Chefs® Academy Founder and CEO, Julie Burleson, came up with the idea behind a cooking school for kids, teens and families.

Check out the recent Business News Daily Business News Daily Article to find out more about how the idea was conceived and the driving force behind the Young Chefs® Academy concept.



Young Chefs Academy Had MasterChef™ Programs before MasterChef Jr....


Julie was the visionary who identified a need and acted on it, paving the way for others to witness the many advantages there were to teaching children the joy and value of cooking. When Young Chefs® Academy began, there was no special programming for children in the culinary realm, such as MasterChef Jr., Chopped Jr., and, Kids Baking Championship, as there are today.

In its infancy, Julie created the official MasterChef™ Program. This program provided an avenue for serious young chefs to work towards a common goal of mastering the essential culinary skills developed over an extended period of time. Members acquire patches after accomplishing specific skills which ultimately commences to earning the coveted MasterChef™ Jacket. The program ultimately gave rise to several members selected as finalists on some of the top television cooking programs on television today, such as Josh of our Forest Hills, NY location or Riley from Fort Worth.

"The team at Young Chefs Academy recommended that I audition for MasterChef Junior when I was 10. Initially I was scared and very, very skeptical. I had all these images of Gordon Ramsay throwing things, cursing, being extremely intimidating, and of me embarrassing myself," states Josh during an interview with Ramentality (http://bit.ly/2ELHJRf). Today, Josh continues to pursue his love of cooking through Pop-Up Ramen restaurant experiences and television appearances.

Build it and they will come....


What started as a local cooking school for kids in Waco, TX quickly blossomed into an international franchise with locations across the globe. The Young Chefs® Academy's mission has always been to teach the joy and value of cooking to children and teens.

A key element built within the Young Chefs Academy philosophy is the continued pursuit to differentiate the brand and provide innovative initiatives affording the YCA franchise family the ability to flourish.

Our goal is to maintain a strong brand presence through:
A network of strong franchise owners who share our passion
The devotion of creating an unparalleled customer experience
Robust programming & retention programs
Executive team with over 150 years of franchise experience dedicated to maintaining and seeking innovative solutions for our franchise owners and customers
A company culture and concept like no other in the market today
National partnerships who align with our core mission


To grow is to change...
In an effort to further strengthen our brand, Julie brought on two key partners to the team, Roger Schmidt and Kevin Ayers in 2014. With their many years of franchise experience, the Young Chefs® Academy brand continues to flourish into new markets, both domestically and internationally.

"Both Kevin & Roger bring with them extensive franchise experience and a passion for what Young Chefs™ is all about," states Burleson. "Our company culture is one that I feel strongly about maintaining and both of my partners share the same core beliefs within the culture we have created."


Take a listen to the latest podcast where Julie shares insight about how she grew her family
and her business with the Young Chefs Academy franchise on Your Working Life with Caroline Dowd-Higgins:

Let's face it...it's about more than just learning a recipe...Young Chefs® Academy offers the opportunity to bring ingredients to life through creative expression, the mastering of techniques, learning about new cuisines, and developing a love for crafting something uniquely their own. Each class, event and birthday party creates a culinary experience that our Young Chefs can take with them that will last a lifetime.

To find out more about Young Chefs Academy franchise opportunities, visit us at: http://youngchefsacademyfranchise.com/
---
Behind the scenes with Julie B.:


| | |
| --- | --- |
| At the Merideth Group in New York City on a visit with Parenting Magazine | "Serious Fun" when Kevin's around....(pictured with Julie ~ Kevin Ayers, YCA Vice President) |




Julie & Roger (YCA President) at the IFA Convention

Fuzzy Friends Fundraising Dinner with YCA chefs in the kitchen

From left to right: Roger Schmidt (YCA President); Julie, Adam & Anthony Bell (Father/son YCA owners of Bel Air, MD)
| | |
| --- | --- |
| Julie in the YCA Corporate Headquarter's Test Kitchen | Julie with YCA Owner in Forest Hills, NY, Chris Chesleigh during on-site visit |