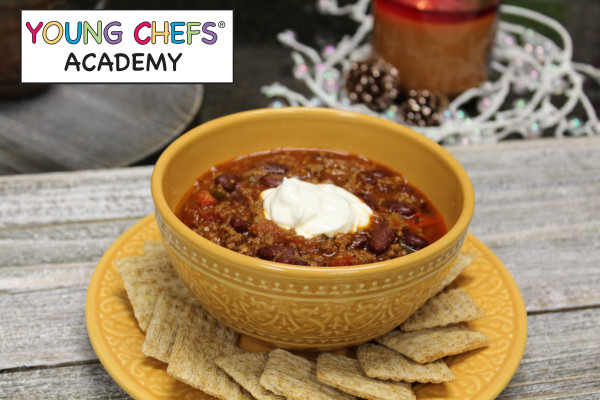 Winter is here in all of its chillingly, wonderful glory and we were pumped about making a delicious chili to warm us up as the winter storms hit...although this recipe is one we make year round due to the incredibly exquisite flavor.

Depending on the level of heat you prefer, this recipe can be altered to your taste, however, the combination of ingredients used in this recipe creates a nice balance of mild to medium warmth depending on how many seeds you use from the jalapeno.

To Bean or Not To Bean.....

There are a multitude of opinions on whether a chili is truly a chili if it contains beans. Some of our Southern friends may have some objections to know we added beans but, just as with most recipes, ingredients evolve over time across different regions to create new delicacies from age-old favorites. One of our favorite activities with our Young Chefs involve empowering them to look for new ways to craft a dish and make it their own using their knowledge of spices, flavor combinations and cooking techniques. Cooking is an art and a great avenue for our students to share their creativity using the knowledge they have learned along their journey.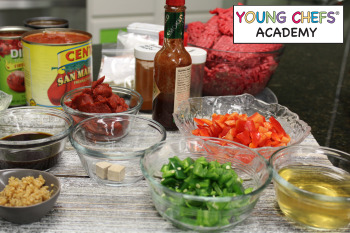 If you've peeked below at the recipe already, don't let the ingredient list alarm you...most are basic seasonings and other items you probably have on hand. And as always, MISE EN PLACE! Ensuring you gather and prep your ingredients ahead of time will save a lot of headaches during the cooking process.

As you begin prepping your spicier ingredients, consider a few of these tips to help you get the best level of heat for your palette:


If you want less heat, simply leave out a portion (or ALL!) of the seeds from your jalapeno. If you want more, add them all!
Start with a little less of the fiery ingredients: chili powder, chipotle pepper sauce and the San Marcos chipotle pepper in adobo sauce. You can always add a little more in during the cooking process after taste testing.
If you like it spicy, you can add more of the ingredients listed in the recipe to create the perfect blazing-hot flavor you prefer. But be sure to just add a little at a time and taste test! You don't want a final product that tastes delicious but is so scorching that you can barely get past the first spoonful.
Be mindful of the flavor palettes of others...this recipe combination was designed to highlight the flavor over the heat, but it's better to ere on the side of caution if you aren't sure of others tolerance.

Okay, now let's turn the heat up in the kitchen and get the entire family involved in the cooking process....gathering and prepping ingredients, taste testing, discussing how some flavors enhance others, mixing, stirring,...involving your children in the process provides a sense of ownership in the dish they helped to create. Not to mention the irreplaceable memories you're building along the way!
---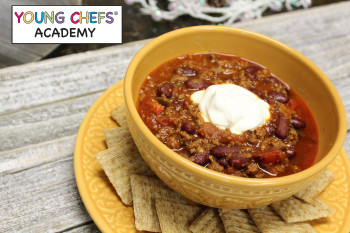 YCA Champion Chili


Ingredients:
4 Tbsp. olive oil
2 red or green jalapenos, chopped
1 yellow Onion, chopped
4 garlic cloves
1 red bell pepper, chopped

2 1/2 lbs. lean ground beef or turkey

1/2 cup Worcestershire sauce

1 tsp. garlic powder, or to taste

2 tsp. bouillon granules

1/2 cup chicken broth


1 (28 oz) can crushed San Marzano tomatoes

1 (14.5 oz) can fire-roasted diced tomatoes

1 (6 oz) can tomato paste

1 (7.5 oz) can San Marcos Chipotle Peppers in Adobo Sauce

1/2 cup chicken broth


1 Tbsp. apple cider vinegar

2 Tbsp. chili powder, or to taste


2 Tbsp. ground cumin

1 Tbsp. brown sugar

1 Tbsp chipotle pepper sauce, or to taste


1/2 tsp. smoked paprika

1 tsp. salt

1 tsp. dried oregano

1/2 tsp. ground black pepper

2 (16 oz) cans dark red kidney beans

1 cup sour cream


3 Tbsp. chopped fresh cilantro (optional)

1/2 tsp. ground cumin (optional)


Directions:


Heat oil in a large pot over medium heat. Cook and stir jalapeno peppers, onion,, garlic, and bell pepper in the hot oil until softened.

Heat a large skillet over medium-high heat. Cook and stir beef in the hot skillet until browned and crumbly ~ 5-7 minutes. Add Worcestershire sauce and garlic powder. Add bouillon granules over beef and add 1/2 cup chicken broth and stir. Continue to cook, scraping any browned bits from the bottom of the skillet, until liquid is hot ~ 3 minutes. Stir beef mixture into pepper mixture.

Stir crushed tomatoes, diced tomatoes, tomato paste, 1/2 cup chicken broth and 1 Tbsp. vinegar to the beef mixture. Chop the pepper from the chipotle pepper in adobo sauce (or use a food processor). Add the pepper and the adobo sauce to the mixture. Season with chili powder, 2 Tbsp. cumin, brown sugar, pepper sauce, basil, paprika, salt, oregano and black pepper. Bring to a boil and reduce heat to medium. Cover and simmer for approximately 90 minutes to allow flavors to fully develop ~ stirring occasionally.

Mix kidney beans into beef and vegetables. Continue to simmer until beans are hot, about 30 minutes more.

Blend sour cream, cilantro, and remaining 1/2 tsp. cumin in a food processor until smooth. Serve sour cream mixture with chili.
---
"Cooking Is Love Made Visible"...
...especially with a steaming bowl of chili