It's almost 2018....the Zodiac Year of the Earth Dog! If you were born in the year 1934, 1946, 1958, 1970, 1982, 1994, 2006, (or even about to be born in 2018), you share a common bond with some other famous "dogs," such as Mother Theresa, Winston Churchill, Madonna, Justin Bieber and Michael Jackson, just to name a few.

But enough of that! Let's move on to the FOOD! Sadly, this is our last week of Bake The Season's Bright, however, we will still be sharing more incredible recipes throughout the upcoming year (sneak peek into January....it's getting "Chili" outside).

With the New Year arriving in just a few days, we thought we'd let things sparkle and shine with Sparkling Cake Pops ~ our mock pink champagne cake pops. These pops are so elegant, yet so enticing. Using some colorful sprinkles to add a little glitz and glamor make these a "must" for your New Year's Eve gathering.

This recipe uses a non-alcoholic alternative but provides delicious results similar to using true Champagne. The slightly sweet and bubbly concoction is also tasty by itself! Just double or triple the recipe for a refreshing drink your guests can sip while savoring their personal cake pop.

Let's get POP-IN'!
---
Each week, we share special tips and tricks with our Young Chefs. One of the big questions that arise is the need to start with room temperature ingredients.

So why do some recipes call for room temperature ingredients?

It's important that you start with room temperature butter and eggs as they will disperse much easier in your batter. But if you're like many of us, we forget to factor in the extra hour to ensure they are at the right temperature. Here's a few tips that can help when you're ready to bake but your butter and eggs aren't!

After eggs and butter and other dairy products have come to room temperature, they form an emulsion when they're mixed. This emulsion traps air and makes your baked good nice and fluffy. Also, ingredients at room temperature tend to mix more easily than when they're cold, making a nice, even batter, which means your final product will have a uniform texture all the way through.

For quick, room temperature eggs: Place eggs in a warm (not hot!) water bath for about 5 minutes. This allows the temperature of the eggs to drop to room temperature.

For quick, room temperature butter: Microwave a glass or ceramic bowl filled with water for a few minutes. Pour out the water and place the warm bowl over the butter for a few minutes to bring to room temperature. Or, microwave, with the wrapper intact, for 5 seconds. Flip and repeat for the other three sides.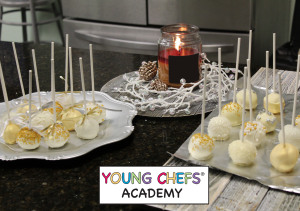 It's important to freeze your cake balls before dipping in chocolate to allow them to firm up a bit to work with. However, be sure to bring your frozen cake balls out of the freezer to warm up slightly. Dipping very cold cake balls into very warm chocolate can result in cracks (we learned the hard way...).

Dipping the lollipop stick into the chocolate first before pressing into the cake ball allows the chocolate to form around the portion where the stick is inserted. This process makes it easier to finish dipping the rest of the cake ball with less messy results.





And Voila! Now all that's left is to invite friends over!




Our friend Taylor joined us after helping to make these little cuties.

What are you waiting for? Let's make 2018 Sparkle!!


---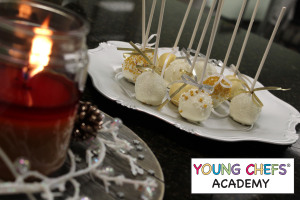 Pseudo Pink Champagne Cake Pops


Ingredients:

Cake:

3 cups all-purpose flour
3 teaspoons baking powder
½ teaspoon salt
1 cup (2 sticks) unsalted butter, softened at room temperature
15 ounces (2 cups) granulated sugar
1 teaspoon vanilla extract
6 x-large egg whites at room temperature
4 drops red food coloring
2 cups mock champagne

Buttercream:

1/4 cup (½ stick) unsalted butter, softened at room temperature
1¼ cups powdered sugar
2 tablespoons mock champagne
¼ teaspoon vanilla extract
1 drop red food coloring

Mock Champagne:

1 quart (32 oz) cranberry juice
1 quart (32 oz) ginger ale
1/2 quart (16 oz) 7-Up


Directions:


For the Mock Champagne: Combine all three ingredients and stir. Set aside.
For the Cake: Pre-heat oven to 350 degrees; grease and flour 9x13-inch cake pan or baking dish; set aside.
In a medium bowl, whisk together dry ingredients (flour, baking powder and salt); set aside.
In the large bowl of an electric mixer, beat butter and sugar until light and fluffy.
Reduce speed to medium and add egg whites, one at a time; add vanilla.
Mix in food coloring5. Stop mixer and scrape the sides of the bowl with a spatula.
With mixer on low speed, add dry ingredients and champagne in three alternating additions, starting and ending with dry ingredient.
Pour into prepared cake pan or baking dish and bake 25-35 minutes or until knife comes out clean from center.
For the Buttercream: Beat butter for several minutes until light and fluffy.
Add sugar, champagne, vanilla and food coloring and beat for several minutes until light and creamy.
To Assemble:

Ingredients:

1 Pink Champagne Cake
1 batch Pink Champagne Buttercream
60 6-inch lollipop sticks
32 ounces white chocolate or white chocolate melts, roughly chopped
½ - 1 cup diamond sugar (optional but recommended)


Directions:


Line a baking sheet with wax paper or non-stick foil and set aside.
Break cooled cake into pieces and place in a large bowl; crumble cake into small crumbs with fingers.
Add buttercream to cake and mix with a spoon until all cake crumbs are coated.
Use a small cookie dough scoop or large spoon to scoop balls of dough onto wax paper
Use your hands to roll the cake scoops into balls.
Cover with another sheet of wax paper and place in freezer for at least one hour.
Prepare another baking sheet with wax paper or non-stick foil for finished pops.
Once cake balls are frozen, you can make the cake pops.
Put white chocolate in a heat-safe bowl and place in over a pot of simmering water; stir chocolate constantly until melted (you can also melt the white chocolate in the microwave).
Remove balls from freezer; dip the top of each lollipop stick about ¼ of an inch into the white chocolate and immediately press into cake ball two thirds of the way through.
Once complete, dip each cake pop, one at a time, into white chocolate; lightly tap off excess chocolate and place cake pop on wax paper and decorate with sprinkles/sugar/edible color mist immediately before chocolate hardens.
Repeat until all cake pops are dipped and decorated.
Allow to cool and for chocolate to harden before serving.
We wish you ALL a VERY Happy and Wonderful New Year!!! From all of us at Young Chefs® Academy!