Young Chefs® Academy locations have been crafting gingerbread houses with tens of thousands of children and families across the globe for over 10 years. However, it didn't start there. In her earliest entrepreneurial years, Young Chefs™ Founder & CEO, Julie Burleson, used her talents to architect and sell custom gingerbread houses for others who found the task to be too daunting to tackle themselves.

Building your own Gingerbread House from scratch can be a discouraging adventure, to say the least. But it doesn't have to be! It starts with a Fool-Proof Dough and a little patience.

So naturally when asked to present some tips for the readers of Reader's Digest®, Julie jumped into the YCA Test Kitchen to start constructing while sharing expert advice along the way. For the full article, click HERE.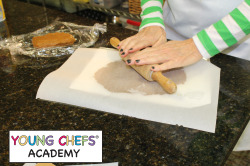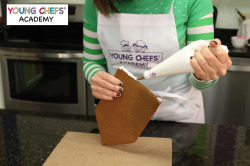 "As with everything culinary, planning and timing is everything. Gingerbread houses are no exception," states Burleson. "Allow yourself time to take it slow, planning in stages along the way."

Because so many have asked, we're sharing our tried-and-true recipe and taking some of the mystery out of the process! This gingerbread recipe produces a strong, finished product versus other gingerbread dough. Let's get this construction project started!
---
YCA Gingerbread House Dough

Ingredients:


5½cups flour
1 tsp. baking soda
¼tsp. baking powder
2 tsp cinnamon
3 tsp. ground ginger
2 tsp. ground cloves
1 tsp. nutmeg
1 cup shortening
1 cup sugar
1¼ cups molasses
1 large egg
1 tsp. vanilla
Directions:


In large bowl, thoroughly blend shortening and sugar. Add molasses, egg, and vanilla and beat until smooth. In another bowl, sift dry ingredients.
Gradually stir dry ingredients into molasses mixture. When dough becomes too stiff to stir with a spoon, work dough with hands until completely blended.
Separate dough into four balls. Wrap each ball in plastic wrap and chill a minimum of one hour. (Dough can be stored in refrigerator for up to two weeks.)
Preheat oven to 325 degrees. Place a disk of chilled dough directly on non-stick aluminum foil or foil sprayed with non-stick spray,* cut to fit your baking sheet. Cover dough with plastic wrap and roll to 1/4 inch thickness.
Remove plastic wrap, place patterns for house (which you can cut from parchment paper) directly on dough, leaving at least 1/2 inch between patterns. Using a table knife, cut around edges of pattern. Remove scraps of dough, leaving cut pieces on foil. Remove patterns and lay foil directly on baking sheet.
Bake in preheated oven 10-25 minutes, depending on size of pieces. Gingerbread will darken, especially around edges and feel firm to the touch. Remove sheet from oven and allow to cool on sheet. Gently peel gingerbread from foil. You may store pieces in a cool, dry place.

Yield: Makes about 2 Gingerbread Houses


YCA Royal Icing

Ingredients:

3 large or extra large egg whites
3 tsp. cream of tartar
4 cups confectioners sugar


Directions:


Measure all the ingredients into a bowl.
With an electric mixer, beat for two minutes at low speed and8 to 10 minutes at high speed. A knife or spatula drawn through the icing should leave a clear path that holds its shape.
This recipe is enough for about 2 gingerbread houses. Place the icing into 4 heavy-duty plastic zipper bags. Seal with as little air in the bag as possible and reinforce the zipper with silver duct tape. When you are ready to use the icing, make a small snip in the corner of the bag and squeeze.
Helpful Tips:
*We use Reynolds® Non-Stick Foil for best results.
This royal icing recipe contains raw egg and should not be eaten.
Royal Icing has a shelf life of one to two weeks if kept in an airtight container with a piece of damp cheesecloth.
Since Royal Icing will dry out when exposed to air, you must keep any icing you're not using in an airtight container with a piece of dampened cheesecloth under the lid. Take icing from the container as you need it. You can also simply use a damp paper towel over the icing while icing.