The winter can be rough...crazy wind-chill factors, sleet and ice, itchy wool clothes. But we can bear it all if we can avoid the dreaded effects of cold-season.

Cough, cough....

Winter is the time for ice skating, sitting around bonfires, and attending back-to-back holiday parties! Not clutching a box of tissues with a close eye on when the next dose of cold medicine is allowable. So why not do what you can to avoid the "flu blues?"

We have our very own secret weapon which may ward off the potential onslaught with that very first sniffle...and of course it involves delicious ingredients. Who needs cold medicine?

Our Darn Good Cold-Combat Chicken Noodle Soup is so delicious, you shouldn't wait until you're feeling under the weather to pull this bad-boy together. It's packed with a crazy amount of natural, cold-fighting ingredients that will help you ward off that cold as well as make your taste buds sing.

While we know that the more colorful the food on our plate (or bowl) is, the more nutritional value is included (and we don't mean a plate of gummy bears or Cheetos!). We won't list them all here, but check out just a few of the nutritional benefits that are naturally comprised in this recipe alone at the bottom of the page.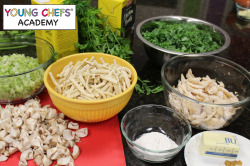 For this recipe, you can easily use a rotisserie chicken or pre-cooked chicken breasts. And, if you're not feeling up to chopping all of these ingredients, purchase them pre-chopped to speed up the process.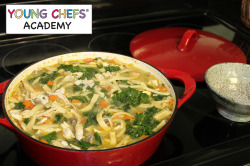 This makes quite a bit of soup so be sure to use a large Dutch oven.

TIP: Noodles soak up some of the liquid as it sits. To ensure your leftovers have enough of that delicious broth, don't add more noodles than the recipe specifies. If you find yourself in this predicament with leftover soup, just add a little more broth (and spices, if necessary) before warming it up!


What makes this soup so special?

The additional seasonings provide some nice medicinal benefits while adding a rich flavor to the soup. Each bite is packed with vitamins and minerals that contain certain cold-fighting properties, such as antibacterial & immune boosting agents, as well as pain relievers.

For our own purposes, we used more cayenne than we post in the recipe for added benefits and an extra kick. But with our roots in Texas, the additional heat from this spice doesn't incinerate our palates! We suggest starting with a small amount and adding more to your specific taste.

So, let's not waste another minute! That cold weather is either here or just around the corner. Let's get started!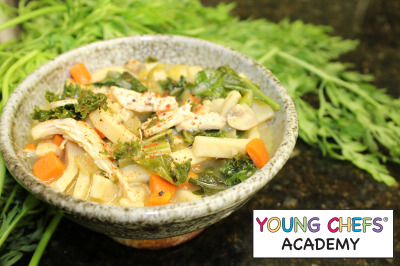 Darn Good Cold-Combat Chicken Noodle Soup

Ingredients:


1/4 cup butter, cubed
1 medium onion, chopped
2 celery ribs, chopped
2 medium carrots, chopped
3/4 cup coarsely chopped fresh mushrooms
1 garlic clove, minced
1/4 cup all-purpose flour
1 tsp. dried basil
1/2 tsp. salt
2 cartons (32 oz. each) reduced-sodium chicken broth
1 pkg. (12 oz) frozen home-style egg noodles
4 cups chopped fresh kale
2 cups shredded cooked chicken
1/2 tsp. cayenne (or to taste)
1 tsp. oregano
1/4 - 1/2 tsp. ground turmeric (to taste)
1/2 tsp. garlic powder
Freshly ground pepper to taste


Directions:


In a large Dutch oven, heat the butter over medium heat. Add onion, celery, carrots and mushrooms. Cook while stirring for 8-10 minutes or until vegetables are crisp and tender. Add garlic and cook 1 minute longer.
Stir in the flour, basil, and salt until blended. Gradually stir in broth. Bring to a boil; reduce heat and simmer, covered for 10 minutes.
Return to a boil and add noodles. Reduce heat; simmer, covered for 15 minutes.
Stir in kale and chicken. Add the cayenne, oregano, turmeric, garlic powder. Taste and add additional seasonings if necessary.
Cook covered for 6-8 minutes longer or until kale and noodles are tender.
Add black pepper to taste and serve!
Yield: Approximately 8 large servings


---

While we won't list all of the nutritional value of each ingredient, here are a few medicinal benefits from specific ingredients included in this recipe:

Mushrooms:
Depending on which type of mushroom you use, most are high in antioxidants, detoxifies, and provide fiber to aid in digestion. They have also been found to improve immune response to infection by stimulating the production of killer T-cells. They are rich in B vitamins, Vitamin D, potassium, copper and iron (just to name a few) are also present in mushrooms.

Carrots:
We've all heard the old adage that carrots improve your vision. But this little ingredient contains antioxidants, Vitamin A, fiber, potassium and Vitamin C that help boost the immune system, reducing the severity of a cold and duration in which it lasts. .

Onions:
High in vitamins, minerals and antioxidants

Garlic:
Along with many other health benefits, studies are beginning to show that garlic may have a very strong antibiotic effect.

Kale:
Kale is a classified as a "super-food" so you just can't go wrong adding this to the mix! This little leafy ingredient can increase your nutrient content significantly and provide antioxident benefits.

Turmeric:
This flavorful ingredient has been used for medicinal purposes for centuries. Studies have shown that turmeric can be used as a pain reliever and healing agent.

Cayenne:
Don't let the heat scare you away! This is a key ingredient that has been used in home remedies for years to fight coughs, colds and congestion. Vitamin C, vitamin B6, vitamin E, potassium, manganese, and flavonoids are among the main ingredients that support it's flu-fighting properties.

Oregano:
Studies performed using Oregano to determine it's medicinal value were reported to show antibacterial properties to fight cold symptoms and anti-inflammatory properties.