It's comfort food season! The time of year when the air gets crisp, carved pumpkins adorn the front porch and the scents of Autumn take over the senses. Aromatic smells of seasonal recipes and ingredients from the warm kitchen fill the air reminding you that all is good with the world.
With this in mind, we were craving something sweet and it had to include pumpkin (it
IS
that time of year, right?), but not the traditional pumpkin pie.
(Side note, did you know that in early colonial times, pumpkins were used as in ingredient for the crust of pies, not the filling? Go figure? We'll have to test that out soon.)
Okay, back to the subject at hand..what did we choose? We chose a recipe that combined some of our favorite Fall flavors: pumpkin and cinnamon. And voila! Our
Maple Pumpkin Cheesecake Pancakes
were brought to life!
For this recipe, we brought in a special "young chef," Dallas, to help us create this tongue-tingling breakfast delicacy to show that you're never too young to start cooking! Don't let her age fool you.... she mastered the measuring, whisking, combining and more like a pro. With just a little help with the mixer, griddle and assembling activities, our sweet chef created these by herself.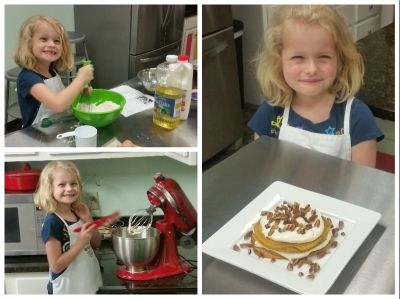 Dallas hard at work making the tasty Maple Pumpkin Cheesecake Pancakes
Way to go, Dallas! Sprinkle on a few pecans with a drizzle of maple syrup and you have a stunning, covet-worthy dish. And whether you choose to make these for breakfast or brunch (or even dinner!), these pancakes combine the flavors of seasonal ingredients that make you all warm and cozy on the inside.... even when it's chilly outside!


Buon Appetito!!!

Did you know that there's a lot of science happening behind these simple flapjacks? Check out some of our tips below to find out how!
---
Maple Pumpkin Cheesecake Pancakes
Ingredients
:
For the Pumpkin Pancakes:
1 1/2 cups all-purpose flour
2 Tbsp. sugar
3 tsp. baking powder
3/4 tsp. cinnamon
3/4 tsp. pumpkin pie spice
1 1/3 cup milk, room temperature
1/2 cup pumpkin puree
1 egg, room temperature
1 Tbsp. oil
For the Cheesecake Filling:
1 (8 oz) pkg. cream cheese, softened
1/4 cup sour cream
1/4 cup maple syrup
2 1/2 Tbsp. powdered sugar (add more "to taste")
Extra maple syrup for topping (optional)
Pecans for topping (optional)

Instructions
:
Whisk flour, sugar, baking powder, cinnamon & pumpkin pie spice in a large mixing bowl to combine.
In a separate bowl, whisk milk, pumpkin puree, egg and oil.
Make a well in the dry ingredients and pour the pumpkin mixture into the well. Stir until just ,moistened. Be sure not to overmix!* Let pancake batter rest while you make the filling.
Heat griddle. Prepare cheesecake filling by whipping the cream cheese, sour cream, maple syrup and powdered sugar. Whip until slightly fluffy.
Pour pancake batter onto hot griddle ~ about 1/3 cup each. Flip once you see small air bubbles appear and cook for about 1 minute more
---

TIPS
:
Why not just add all of the ingredients in one bowl and mix? We use the muffin-method when making pancakes ~ this is where you mix your wet & dry ingredients separately before combining them creating more tender results in your final product.
*What happens if I overmix? Well...the gluten in the flour starts to develop as soon as liquid touches it. The more you mix, the tougher the gluten strands become making for a tougher, chewier pancake.
But there's lumps in my batter! Don't worry if your batter has lumps after mixing! The trick is to let it rest for about 15 minutes (not much more than that). When you let your batter rest, the gluten relaxes a bit making your pancakes tender. Relaxing the batter also allows some of the lumps to dissolve. Any left-over lumps will just cook away!
To rest or not to rest...that is the question: Should you let your pancake batter rest before cooking? The answer is yes! Allowing your batter to rest for 5-10 minutes (but not much longer) before baking allows the gluten that has developed to relax. This makes for a lighter, more tender finish and not tough and rubbery.
Not sure when to flip your pancake? Once the edges get slightly crispy and air bubbles start to form at the top, it's time to flip!
My mother always presses the pancakes down with a spatula...why? Don't do it!! You'll undue all the efforts you've made for fluffy, light pancakes!
About the Young Chefs® Academy KinderCooks program: Where our youngest "Chefs in Training" are the main ingredient! The Young Chefs® Academy KinderCook program is paced accordingly for an elementary aged child's attention span and incorporates age-appropriate recipes and culinary skills while integrating basic nutrition, kitchen safety, and teaching moments to help young chefs become an active participant in the family kitchen.