Now that Autumn is officially here and Oktoberfest is in full swing across the country, we got the hankerin' for some rich and robust German food. Since we couldn't travel to Munich for the real thing, we thought "Why not bring a little of the Bavarian festivities to us?" Right?
Traditionally, the largest meal in Germany is shared during
Mittagessen
(lunch). However, dining preferences have changed over the years where more families may choose to wait until
Abendbrot
(dinner/evening meal) for their heartier meal. What ever you choose, the recipes were going to be making will disappear fast so watch out!
We decided to pull out one of our "oldies-but-goodies" recipes…the savory, flaky
Oktoberfest Strudel
paired with a crisp and tangy
German Cucumber Salad
. Our mouth is watering just thinking of it.
Humm...come to think of it, wonder if we should have thought to make a sweet version too, you know, for test purposes only, of course. ; ) Enough with the regrets, let's get cooking!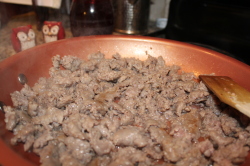 After removing the sausage from the casing, be sure to break up the meat so that it's easy to spread out when you're adding the filling to your strudel.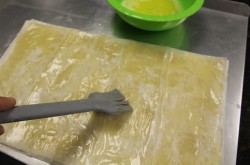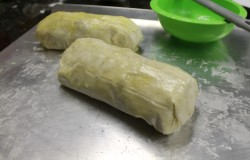 TIP: Be sure to add butter all the way to the edges of the sheet. If your ends appear dried out and difficult to tuck in, dip your fingers in a little bit of water to moisten the ends. Then tuck away!
All that's left is to put on those Lederhosen's and Dirndl's, grab some friends and host your own Oktoberfest celebration!
Guten Appetite!


---
Oktoberfest Strudel with Mustard Sauce
Ingredients
:
For the Strudel:
1 lb. bratwurst
1 1/2 Tbsp. butter
2/3 cup onion, minced
1 medium Granny Smith apple, peeled, cored and diced
1 cup sauerkraut, drained
1 tsp. caraway seed
1/2 cup butter
16 phyllo sheets, thawed
1/4 cup prepared mustard
For the Mustard Sauce:
1 Tbsp. butter
1 Tbsp. flour
1 cup light cream
2 Tbsp. prepared mustard
1 tsp. paprika
Direction
:
Preheat oven to 375 degrees.
Remove the bratwurst meat from the outer casing and place into a pan. Brown the meat, breaking it up into small bits. Drain fat and set aside.
Melt 1-1/2 Tbsp. butter over medium heat. Add onion and saute for for 3 minutes.
Add apple and saute for another 3 minutes. Remove from heat, stir in sauerkraut and caraway seeds; mix well.
Melt remaining butter. On a large baking sheet, lay out one sheet of phyllo and brush with melted butter. Repeat to make 8 layers, spreading 2 Tbsp. mustard over last layer of phyllo
Spread half of the sauerkraut filling over the dough leaving a 1-inch border around the edges. Top sauerkraut with half of the bratwurst, roll up like a jellyroll, starting with the short sides. Place seam-side down on pan; brush tops with butter and tuck in ends.
Repeat steps 5 and 6 to make another strudel. Bake for 25-30 minutes or until golden brown.
While strudel is baking, prepare mustard sauce. In a saucepan, melt butter over medium-low heat. Stir in flour to form a smooth paste, or roux.
Slowly stir in cream and continue stirring to keep lumps from forming. Whisk in mustard and heat through. Slice warm strudel and serve in a pool of mustard sauce. Sprinkle with paprika.
Yield: Makes 2 strudels with 6 slices each or (3 large slices each)
---

German Cucumber Salad
Ingredients
:
1/2 cup sour cream
2 small cucumbers, sliced
1 large greenhouse tomato, sliced and chopped
4 slices of red onion, thinly sliced and cut in half
2-4 tsp. lemon juice
3/4 tsp. fresh dill, stemmed and roughly chopped
Salt & pepper to taste
Instructions
:
In a bowl, combine the sour cream, 2 tsp. lemon juice, dill, salt and pepper. Taste and add more lemon juice, salt and pepper based on your preference.
Add cucumber, tomato and onion into the bowl and stir until the vegetables are well coated.
Yield: approximately 4 side servings
https://www.oktoberfest.de/en/