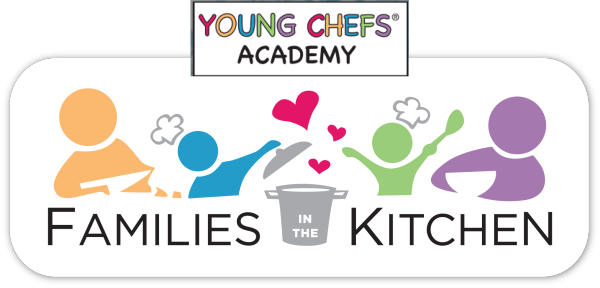 Picture this Scenario
(cue the thought bubble above your head)
...


You have a recipe, a five-year old who wants to help, a teenager screaming for takeout and a short schedule to get dinner on the table. Most of us have been there, right? It's so easy to just find something to keep your younger child busy as you dig for that pizza coupon you saw in the "junk" drawer of the kitchen.
It's not your fault and you're not alone!
Busy schedules, different tastes and the need to keep it simple are as much a part of our world today as is eating and sleeping. The difficulty with this is many are not taking part in the multitude of benefits offered through introducing the art of cooking to the whole family.
Let's take a look at some of these benefits: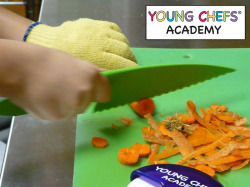 Creative Empowerment and Increased Self-Esteem
The art of cooking not only provides an avenue for children and teens to continue to grow and expand their creativity, but to increase their self-esteem during the process.
An outlook for a child who knows how to cook encourages them to think outside of the box using their creativity and knowledge. Seeing a countertop full of ingredients come alive and develop into a finished product is a truly rewarding experience. It doesn't have to be pretty all of the time, but THEY did it. Even with the help of other family members, they were involved in crafting a "masterpiece"….from start to finish.
Appreciation for the cooking process …
Let's say you're pressed for time and want your family to eat a home-cooked meal. Which would you rather have on your side: stressing over how you'll cook a true home-cooked meal on your own in time OR have your family, especially your children, ready to lend a creative hand? We prefer to lean towards the kids….otherwise, most of us would throw in the towel and reach for that frozen pizza you keep on hand for just these occasions. Don't do it! When your children understand what it takes to place a meal on a table, they may be more likely to help out.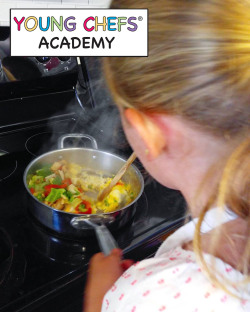 Family Cooking = Stronger Family…
We all know that studies have shown how family mealtimes are linked to positive effects on childhood development, such as: better grades and a lower risk of obesity and eating disorders. But there are also additional benefits that make a family stronger when making the family meals a priority.
Constructing better communication as a family
Creating family traditions that provides a positive model for your children as they grown into adulthood
Home cooking provides your family with healthier and nutritious options
When you add the culinary process to family meals, you're building a strong bond and lasting memories that will stay with your children for a lifetime. Not to mention developing basic cognitive skills such as math, reading, science along the way without even realizing it!
Increased Food Experimentation…
Here's a little secret to help expand your child's palate ~ getting them involved in the process. Something magical happens when kids get involved. Struggling to get your children to explore new foods becomes a thing of the past. Well, not ALL of the time. Even the most famous of chefs have an ingredient or two that they may prepare but absolutely will not eat. But they were open to new tastes when they began and cultivated new food favorites that they may not have if not given the opportunity to grow in the culinary arts. The same goes for children as they grow in their experiences with new foods during the process.
Cooking Lasts a Lifetime….
Cooking is a skill that will last a lifetime. Everyone needs to eat, right? A child who has been given the opportunity to experiment and develop their culinary skills early on in life will allow them to utilize this throughout their adult lives.
Don't have the patience or time?
We understand! In today's time, we're strapped tight with work and children's activities.
Based on conversations we have had with busy parents of our young chefs are that there are several factors that might affect parent's ability to teach their children/teens to cook:

But what if we had a solution to help simplify the process?

You guessed it...Cooking classes that will introduce your children to the culinary arts! Our Young Chefs members are exposed to a variety of skills, ingredients, and techniques that may be a difficult and daunting task at home for busy families. Some recipes call for an intimidating list of ingredients, many rarely used again or not at all. We take the approach that introducing children to new ingredients allows them to expand their palate and experience the various tastes and smells available and how you would incorporate these into other dishes.

Every single day during our Chefs Club Membership Program, we see our Young Chefs enter our kitchens with smiles and an eagerness to learn about a new cuisine, skill, technique or taste. Parents are blown-away when their child participates in the entire process and eagerly consume a particular ingredient they have never been able to get them to try in the past.

What are the benefits of joining the YCA Chefs Club Membership Program?

Just to name a few.....
Takes the stress from teaching at home during the busy week
Learning how to cook amongst a group setting alongside their peers
Team building activities built in to increase self-esteem as students work together towards a common goal
No computers to hide behind!
Reinforcement of skills, techniques and kitchen safety
Expansive range of new ingredients and recipes introduced every week which allows creativity to flow and exploration of new cuisines
Members receive discounts on products and services and are automatically enrolled in the exclusive MasterChef program
Taking what they learn and applying this at home for family mealtime!
Young Chefs Academy provides the outlet to help your child develop their culinary abilities in a welcoming environment. Students take home what they've learned and continue to build upon their knowledge each week, allowing them to become immersed in the process.
But selfishly for us, it's about even more than teaching our students how to cook….it's the smiles, laughter and surprises that happen every day.
Whether you teach your children at home yourself or utilize the services of a cooking school designed with your child in mind, the benefits outweigh everything else.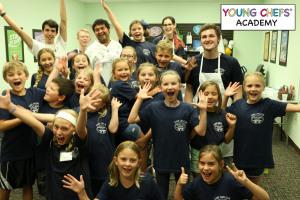 Keep On Cooking, Young Chefs! Keep On Cooking...
Visit https://youngchefsacademy.com/ to find a location near you or to find out how you bring the joy and value of cooking to your community by becoming a Young Chefs Academy Franchise Owner !