We just couldn't help it....we had to share another delicious recipe for this star-spangled holiday.
The Fourth of July is a great time for celebrating our independence with family, friends and yes...you guessed it...great food! It's time to fire up the grill for a good 'ol American burger with a twist ~
Bacon Burgers with Grilled Peaches.
Deeee-licious!
Happy Fourth of July!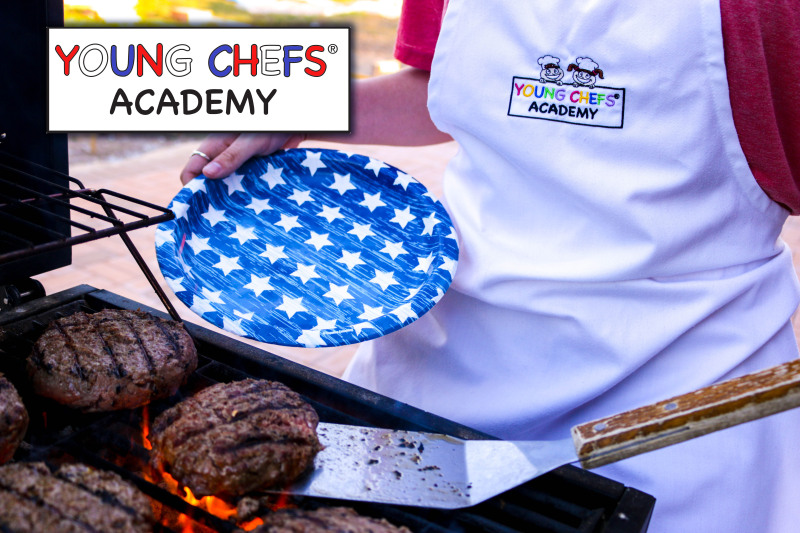 Bacon Burger with Grilled Peaches
A Young Chefs® Academy Recipe
Ingredients:
1 ½ lb. ground beef 80/20*
1-2 tsp Worcestershire sauce
1 tsp Tabasco
Salt and pepper, to taste
6 slices of thick cut bacon, cooked
1 medium red onion, thinly sliced
4 oz. goat cheese
2 peaches or nectarines, sliced
3 Tbsp. red wine vinegar
2 tsp sugar
½ tsp Dijon mustard
1 dash salt
8 oz. spinach, washed and dried
6 buns
Mayonnaise
Avocado, sliced (optional)
Equipment:
Mixing bowls
Measuring cups/spoons
Clean hands
Plate
Large skillet
Grill or grill pan
Plate lined with paper towels
Knife
Cutting board
Whisk
Instructions:
1. In a large mixing bowl, add the ground beef, Worcestershire and Tabasco. Mix together using your clean hands. Then divide the meat into 6 equal portions. Shape into patties, place on a plate, cover, and refrigerate. Wait to season with salt and pepper until right before cooking.
2. In a large skillet, add the bacon and set the pan over medium heat. Cook the bacon until crisp. Remove to a plate lined with paper towels to drain. Repeat with remaining bacon. Set the bacon aside to cool. Transfer the bacon fat to a heat proof bowl and reserve.
3. Add the onions to the skillet and set over medium-low heat and sauté until the onions are caramelized, stirring often, about 20 minutes. Set aside.
4. Preheat the grill or grill pan. Allow the grill to get hot and then brush the grates with oil.
5. Remove the burgers from the refrigerator and season lightly with salt and pepper. Place the patties on the grill and cook for 2-3 minutes, then rotate the burger and cook another 2-3 minutes. Flip the burger and repeat. Remove the burger and keep warm in a low oven until they have all been cooked.
6. Place the peaches on the grill; cook for 4-5 minutes per side until they begin to soften and caramelize. Remove and set aside.
7. In a small mixing bowl, whisk together 3 tablespoons of the reserved bacon fat, vinegar, sugar, Dijon and salt. Pour this over the spinach and toss to coat all of the leaves.
8. Toast the buns, if desired. To assemble the burger, spread the goat cheese on the bottom bun, top with a burger and a piece of bacon broken into 2 pieces. Add the spinach and top with grilled onions, avocado, and peaches. Spread mayonnaise on the top half of each bun and close the sandwich. Slice in half and serve immediately.
Yield: about 6 burgers


---

Why use 80/20 meat for grilling?


When buying ground beef, did you know you have choices? What are those choices? Basically it is the ratio of the amount of fat to the amount of beef in the ground meat.
Of course, the different kinds of meat have different purposes. There is:
o Ground Beef - 73% Lean, 27% Fat
o Ground Chuck - 80% Lean, 20% Fat
o Ground Sirloin - 85% Lean, 15% Fat
o Ground Round - 90% Lean, 10 % Fat
- What you are cooking will determine which type of beef you need to use. We prefer ground chuck for hamburgers because it is fattier, and this helps hold the burgers together. Ground round can fall apart on the grill because it's low in fat content and won't hold together.
- You can also use a combination of ground chuck and ground round, which holds together well but also reduces some of the fat content per burger.
- The fattier meat will also help to make your burgers juicier.
- Use ground round or ground sirloin when browning meat for casseroles or tacos because you won't lose so much weight due to the fat being drained off.