Who doesn't just love a great bake sale? Whether it's classes, camps or workshops at Young Chefs Academy, our students' eyes light up when they know they're going to be digging in and creating some type of sweet confection. This month, we have been touched to witness another passion in our young chefs' hearts - helping other kids.
During the entire month of May, our Young Chefs Academy Chefs Club Members have been baking away for a great cause-Cookies for Kids' Cancer! Each YCA location has been hosting bake sales to raise awareness and much needed funds for pediatric cancer research. Young Chefs Academy has teamed up again with Cookies For Kids' Cancer, but this time all monies received during May will be matched dollar-for-dollar due to the generosity of a special donor! That's double the reason to jump aboard this fun and worthy cause!
"It's very powerful to see when not only our YCA franchise owners enthusiastically jump in; but for our Young Chefs' kiddos to take ownership and forge the way for this cause that is near and dear to our hearts...well, it's just humbling and heartwarming," says Shelly Phipps, YCA Marketing Director. If you want to be a part of this worthwhile movement happening across the country, there's still time to take part and "Be A Good Cookie!" Visit our Bake Sale page at
http://youngchefsacademy.com/bakesale
to view dates/times for upcoming bake sales or to simply donate. Please come by and treat yourself to a cookie or two, all for a great cause!
Now, we have a special treat for you -
You might recognize Emma & Hannah, our own in-house bake sale enthusiasts and the test kitchen young chefs, when they introduced earlier this month the Young Chefs Academy partnership with Cookies for Kids' Cancer (
CLICK HERE
for Bake Sale Video with Emma & Hannah). Not only do they help out at our corporate headquarters testing recipes, but they have their own secret talent and passion.... pies! They began perfecting and selling their own pies at an early age and agreed to share one of their favorites with you!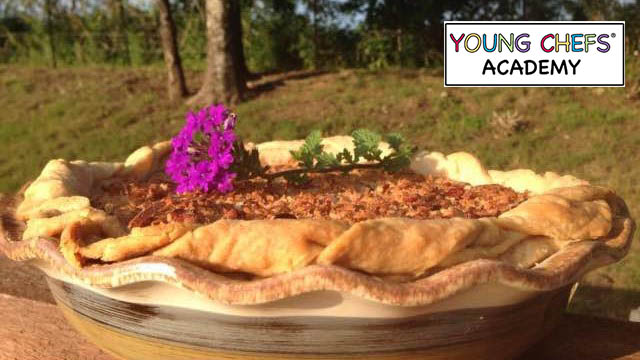 Emma & Hannah's Grated Apple Pie
)
Ingredients
1 cup sugar
1 Tbsp. flour
1 tsp. cinnamon
Dash of salt
4 cups peeled, grated apples
1 egg, beaten
6 Tbsp. butter, melted
1 cup chopped pecans (optional topping)
Refrigerated pie crust, pre-made
Equipment
Pie Pan
Measuring cups/spoons
Grater
Safety knives
Spoon
Instructions
1) Preheat Oven to 400° F.
2) To form the pie crust: Roll dough out slightly larger (about 1/2" thick) than your pie pan and then carefully set it into the pan, rolling the edges under and pinching to form the pie edge. Using a fork, make several holes in the bottom of the crust to prevent bubbling during baking.
3) Mix all ingredients together (except for the pecans) and pour into crust.
4) Sprinkle pecans over the top.
5) Bake for 10 minutes at 400° F.
6) Rotate the pan, then bake at 350° F for 50 minutes.
7) Let cool and serve.