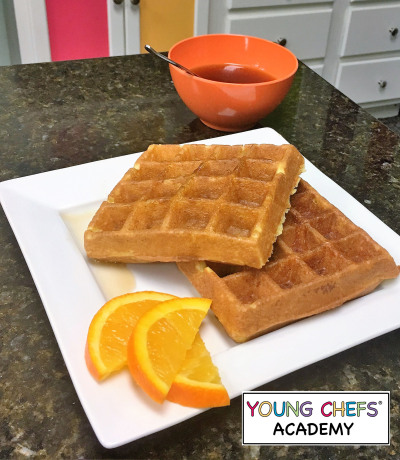 There's nothing better than waking up after a great night's sleep to the sounds and sweet smells of breakfast cooking in the other room….Ahhhhhh…..
Anthony Bourdain couldn't have said it any better –
"What nicer thing can you do for somebody than make them breakfast?"
In honor of National Hot Breakfast Month, toss the frozen toaster options back in the freezer and make something delectable for friends and family that will have their mouth watering in anticipation! Our Young Chefs tested this delicious twist on your ordinary waffles….Orange Waffles with Orange Maple Syrup ~ sweet Belgian waffles with a hint of tangy citrus. All we can say is
D.E.L.I.C.I.O.U.S
. (and super easy!)!
Simply serve these up with a few orange slices on the side and your favorite protein (we're thinking bacon…who doesn't like bacon?). But be careful! You may become the family's sole designated breakfast chef!
Happy
#BakeForFamilyFunMonth
!
---
Orange Waffles with Orange Maple Syrup
Ingredients:
For the waffles:
1 ¾ cups all-purpose flour
3 Tbsp. sugar
2 Tbsp. baking powder
¾ tsp salt
3 eggs
6 Tbsp. butter, melted
2 medium oranges, zest and juice
Club soda
For the syrup:
1 cup maple syrup
¼ cup orange juice
Equipment:
Mixing bowls
Whisk
Measuring cups/spoons
Spoon or whisk
Microplane
Waffle iron
Plate
Small saucepan
Whisk
Measuring cups

Directions:
Preheat the waffle iron. Preheat oven to 200°F.
In large mixing bowl, whisk the flour, sugar, baking powder and salt to just combine.
In a small bowl, whisk the eggs and melted butter together. Fold into the dry ingredients until the flour is just moistened.
In a liquid measuring cup, add the zest and juice of both oranges. Add enough club soda to make 1 ¼ cups of liquid. Add this to the flour mixture and fold in until it is just combined. Set aside and let rest for 5 minutes.
Cook the waffles in the waffle iron until they are crisp and golden brown. Keep warm while cooking the rest of the waffle batter. Serve with the orange maple syrup.
For the syrup: In a small sauce pan, add the maple syrup and orange juice. Heat to a simmer until the syrup is warm and combined with the orange juice.
Remove from the heat and serve while still warm with the orange waffles.

Yield: about 6 servingsNote: if desired, ¾ cup toasted, chopped pecans can be added to the batter. Add the pecans in with the dry ingredients
.