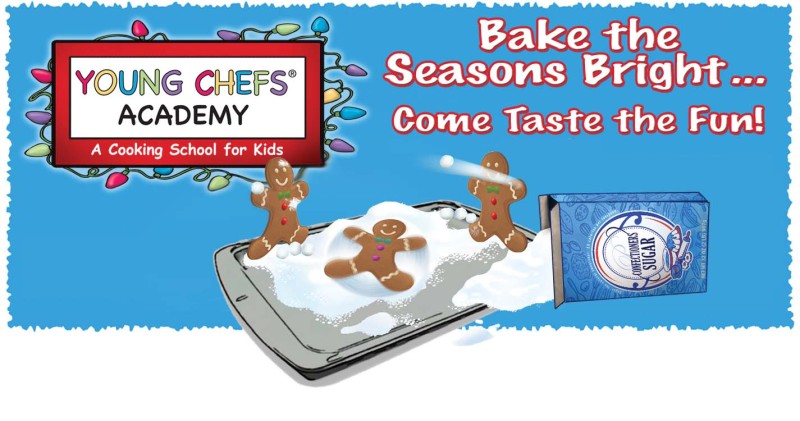 Behind-the-scenes during the holiday season
The holidays are a special time of year for all of us at Young Chefs Academy. ~ with families streaming into our YCA kitchens, excited to create their own one-of-a-kind gingerbread houses dripping with sweet icicles and candied walls. Everyone quickly gets busy at work, stopping only long enough to sip hot chocolate and contemplate their handiwork, all the while humming along to familiar holiday tunes that fill the air….creating priceless memories as plain brown walls transform into winter wonderlands.
While the time and preparation that goes in to pulling these workshops together may seem daunting for most, our Young Chefs owners see this as a joyous labor of love. Behind-the-scenes, Young Chefs Academy staff (or family, as most of our owners call them) busily craft gingerbread platforms, assemble candied stations, adhere walls with royal icing all while adding a little holiday fun to the mix.
Gahanna, OH YCA Franchise owner, Jill Jacobs, shared how she and her staff members keep things festive during the hustle and bustle of gingerbread house construction:
"[We] have a plastic elf that is dressed like a chef. For some reason, he scares the staff. So every year, we hide him in crazy places for other teachers to find. He may be under somebody's coat, in the microwave, and one year he mailed himself to North Carolina where a beloved teacher moved while her husband, a Marine, was deployed.""We all have our favorite candies. I love sour warheads, Hannah loves spearmint leaves, Kelsey loves Rips. We can usually tell who works that day, because their favorite candy will be really low."
And then the real magic begins when the doors open to welcome the families into the kitchen…excited faces eager to get their hands on the many tempting confections; families laughing together as they help their child plan their masterpiece; staff members sharing tips and tricks they've learned over the many years of hosting these events, and most importantly; the pride and accomplishment of their creation coming to fruition. These are what memories are made of from start to finish. "You're only a kid once, right," states Manager Kelsey Borger during an interview with The Columbus Dispatch (view full article here:
http://www.dispatch.com/content/stories/local/2014/12/01/houses-get-kids-tlc.html
).
Gingerbread House Decorating Workshops are currently in full-swing at YCA locations across the nation. Come join us to start making your own holiday memories at a location near you!
To find an event near you,
visit
http://youngchefsacademy.com/see-all-locations
.
For more information on Young Chefs Academy and franchising opportunities, visit
http://franchise.youngchefsacademy.com
.