Young Chefs Academy holds a special place in our communities – connecting in so many meaningful ways with local families who put their trust in us. Given this compelling dynamic between Young Chefs Academy and our students/families, we're able to attract positive media attention across multiple platforms locally and nationwide.
Recently, Young Chefs Academy's new Seminole, Florida location and franchisee, Jessica Yuen, was featured in the Seminole Beacon, the main daily print publication in her local market. Profiled as a business leader and talented entrepreneur, the feature piece demonstrates just how rewarding it has been for Jessica to transition into business ownership through a concept that allows her to be creatively fulfilled while enriching the community.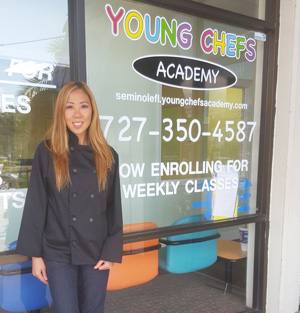 Clearly, Jessica has made an emotional investment in Young Chefs Academy, which she discusses is similar to how much she cares about her family and community.
"Food brings families together. It's a representation of love to me," says Yuen in the
article
. "[We are teaching] life skills. What a great idea to teach them to children, who can continue them on."
Click
here
to read the full story in the Seminole Beacon.
For more information on Young Chefs Academy and franchising opportunities, visit
http://franchise.youngchefsacademy.com
.