As more children discover just how rewarding it is to explore their creative sides with cooking, the unique franchise opportunity at Young Chefs Academy continues to make headlines as well.
Recently, the Sandy Springs Young Chefs Academy outside Atlanta was featured in the Sandy Springs Neighbor in a feel-good profile about one of the culinary instructors. Even though she suffers from cerebral palsy, Rachel Weigle has found a home away from home at Young Chefs Academy where she can exercise creative freedom and work with children and food, her two passions.
"Cerebral palsy causes me to be in a wheelchair and also have learning and processing difficulties. Cooking takes me to a different place and allows me to not focus on it," Rachel said. "My goal is to work with [the] Young Chefs Academy KinderCooks program. I love being around children, so combining cooking and children at Young Chefs Academy would be perfect."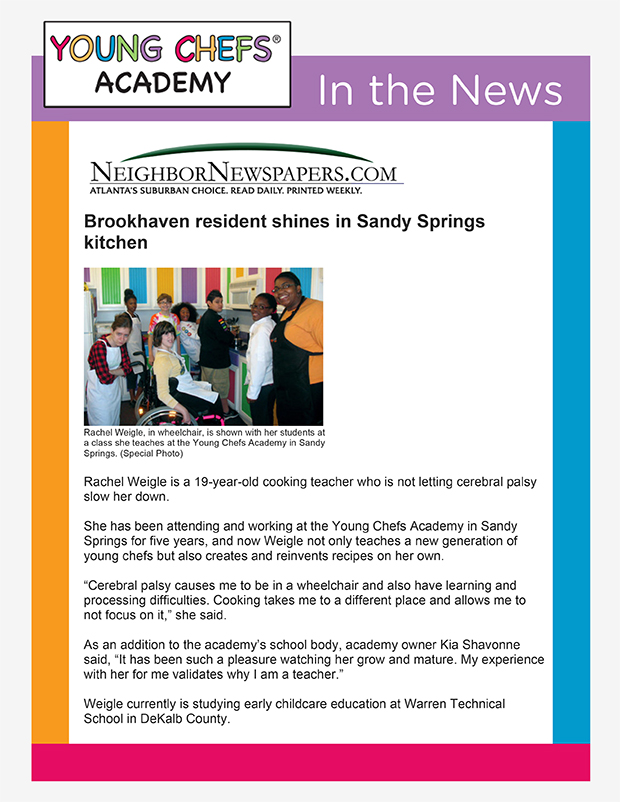 Click
here
to read the full article.
For more information on Young Chefs Academy, the impact it has on local communities and franchising opportunities, visit
http://franchise.youngchefsacademy.com.