Valentine's Day sure is sweet! Love is in the air, and the only thing that can make it sweeter is a knock-your-socks-off dessert.
Whether you're cooking at home for the special person in your life or simply celebrating love with friends and family, be sure to try a new dessert recipe that the whole family can help prepare.
Utilizing critical culinary skills such as beating egg whites, making doughs, tempering chocolate and understanding the properties of pectin found in fruit to thicken a spread, these recipes are delicious and educational. Mix and match them for a complete dessert – try our White Chocolate Mousse and Chocolate Cups and have a sweet day!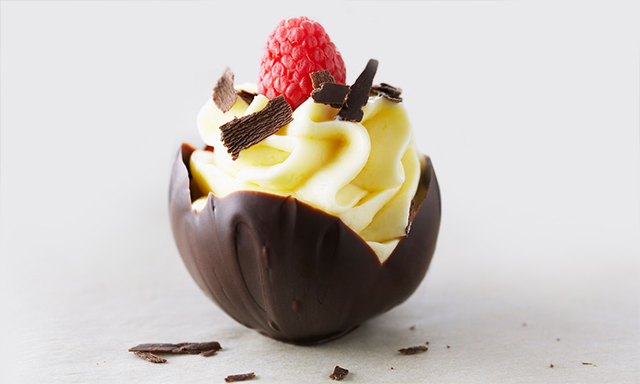 White Chocolate Mousse
Yield
•
4 small servings


Ingredients

• 1/4 pound white chocolate, chopped
• 1 Tbsp. vanilla
• 1 pasteurized egg
• 2 Tbsp. sugar
• 3/4 cup heavy cream, beaten to stiff peaks
• Raspberries, for garnish
• Dark or milk chocolate, shaved or grated for garnish
Equipment

• Microwave safe bowl
• Measuring cups/spoons
• Hand held mixer
• Bowls
• Microplane
Directions
1) In a microwave safe bowl, add the white chocolate and vanilla. Microwave on half power for 30 second cycles until the chocolate is smooth. Stir the mixture between each cycle until it has melted completely. Set aside to cool.
2) Beat the egg with the sugar in a small bowl until it has doubled in volume. Fold the egg into the melted chocolate.
3) Fold the whipped cream, a bit at a time, into the melted chocolate, until thoroughly incorporated and smooth. Cover the bowl with plastic wrap, with the wrap gently pushed down onto the mousse to prevent a film from forming, and refrigerate several hours or overnight.
4) Just before serving, spoon the mousse into chocolate cups; top with raspberries and/or shaved chocolate, if using.
Chocolate Cups
Yield

• 4-6 small cups

Ingredients
• 12 oz. bittersweet or semisweet chocolate, chopped
• 6 small balloons
Equipment
• Microwave safe bowl
• Sheet pan lined with parchment
• Balloons
Directions

1) In a microwave safe bowl, add the chocolate and microwave on half power in 30 second cycles until the chocolate is smooth; being sure to stir the chocolate between cycles. Transfer the chocolate to a bowl and cool until it is tepid, about 100°F.
2) Line a baking sheet with parchment or wax paper. Blow up the balloons until they are about 4 inches wide, then tie them closed.
3) Dip each balloon into the melted chocolate, inclining it slightly to form a roundish shape on one side. Turn the balloon and dip it again, three or four times in all, until the chocolate resembles a large tulip. Stand the dipped balloons on the parchment-lined baking sheets. Some of the chocolate may drip down and form a pedestal.
4) When the chocolate has hardened, prick the balloon and release the air inside. Let the balloon slowly deflate on its own. (Don't try to pull the balloon out of the chocolate bowl before it is deflated.) Once the balloon is deflated, it should easily separate from the chocolate.
5) Carefully pry the balloon at the base using your fingers. Place on a plate or baking sheet and refrigerate until ready to use.
6) Divide the mousse between the bowls/cups and serve immediately. Garnish with raspberries or shaved chocolate.
ENJOY!