Thyme for Kids… a family, food, and franchising blog
Julie Fabing Burleson, our Young Chefs Academy Founder and CEO talked to Inc.com about starting your own business with tips she learned from her kids, Rachel & Andrew. We couldn't be more thrilled to share best selling author, Peter Economy's (petereconomy.com & @bizzwriter) article!
Click here to read the article on Inc.com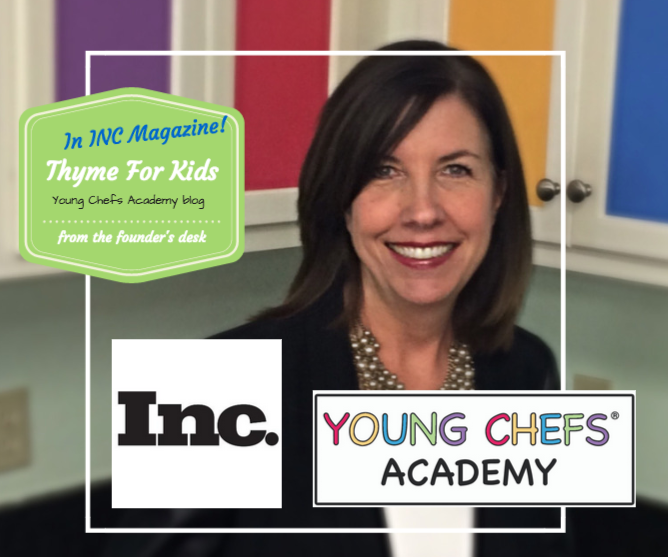 7 Powerful Lessons Kids Can Teach Us About Entrepreneurship
Kids have a lot to teach us about being in the business world. Are you listening?
When you fall off of the bike, the best thing you can do is get back on.
Little gems like this are so familiar to each of us. These life lessons are passed down from generation to generation, and I bet every parent today has found themselves doing their part to pass these true-isms on to today's generation.
There is so much to teach our children, but for Julie Burleson, founder and CEO of Young Chefs Academy, the premier children's cooking school in the country, the lessons that resound with her the most are those that her own children teach her.
There are big ones, including unconditional love, patience, selflessness and sacrifice. There are also many smaller lessons we learn from our children that can be applied to entrepreneurship.
I asked Burleson for tips on starting a business, and she said it's a lot like starting a family. Here are some of the lessons she has learned along the way:
1. Schedule important meetings during your happy time
As new parents, we learned that the best time to schedule family portraits or doctor visits was during the kids' "happy time." My daughter's was late afternoon just past naptime and my son's was in the morning after breakfast. If I have a meeting where I'm pitching an idea to a potential partner or discussing the advantages of becoming a Young Chefs Academy franchisee,
Read More