Thyme for Kids… a family, food, and franchising blog

Summer camp has been a tradition for over 100 years in America. Parents send their kids and teens to many different camps - from baseball to space camp - to try new things, meet new people, and challenge themselves, but having FUN is what camp is all about! And fun is the main ingredient at the one and only summer cooking camp in the Nation. At Young Chefs Academy's Camp Can-I-Cook® Summer Mini-Camps, campers get to experience new tastes and learn to prepare recipes from various cuisines. Here are some other important summer camp benefits...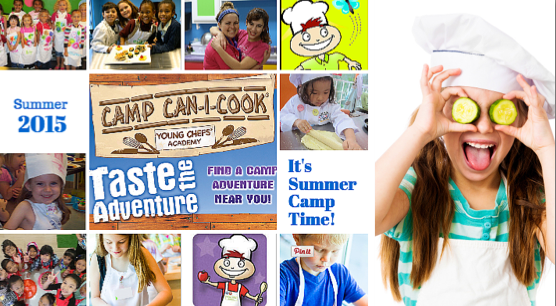 Favorite Summer Camp Can-I-Cook® Pros:
Wow, you mean there's plenty to do that does't involve TV, the internet and the ever-present cell phone?! Camp is real life engagement with actual people. Face to face. Which brings us to…
Kids learn lifelong social and kitchen skills that they will use forever! Camp Can-I-Cook® provides excellent instruction, equipment and programs in a welcoming environment for kids to enhance their kitchen skills, no matter what their level.
Camp builds confidence with non-competitive play. Camp teaches kids that they can cook. Succeed. Learn. Do anything!
Free from the school social scene, our unique environment encourages lasting friendships.
Builds families. Our kitchens narrow the space between your kitchen and your family, supporting healthy interactions between everyone in your house… Wait until your kids bring home all they have learned at Camp Can-I-Cook®!
Builds independence. Within the welcoming, caring environment of YCA, kids feel comfortable just being themselves which encourages a good sense of self.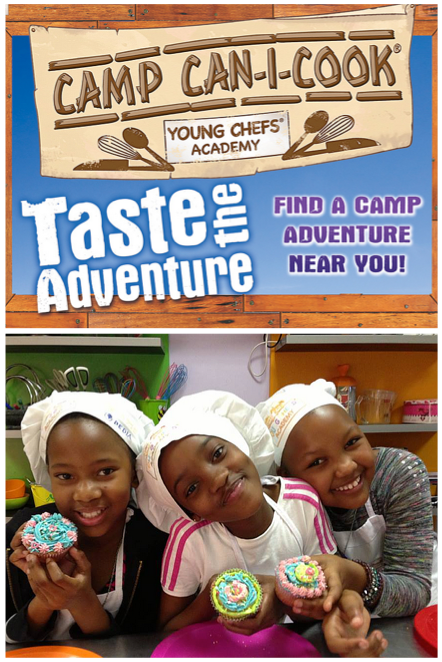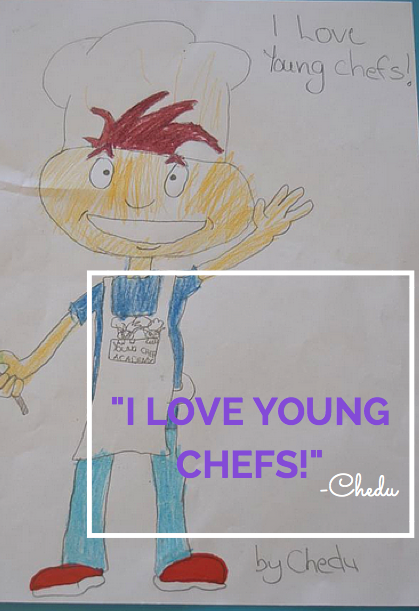 Each camp consists of a three-hour session for three, four or five consecutive days and takes on a personality of its own. Whether you're beating the heat with our "Chillin' in the Kitchen™," tasting old world favorites of Italy, uncovering culinary favorites of France, or dipping into our "Choco Loco™," you never know what to expect next!
Come Taste the Adventure!
The 2015 Young Chefs Academy Camp Can-I-Cook® Summer Mini-Camps
Chillin' in the Kitchen™
Beat the heat with our cool treats! Get ready for 'cool' fun
and escape the sizzle of summer!
The Great Impasta™
Take your taste buds on a Tour of Italy!
We will be taking a trip through Italy without even having to
pack our bags. Get your taste buds ready for this exciting
journey through the Bel paese!
Choco Loco™
We are Crazy for Chocolate! Chocolate was once used for
money; now it's the most popular food in the world. Any chef
must learn the ins and outs of creating chocolate recipes,
because the world is crazy about chocolate!
Famous Foodies™
Famous Chefs! We are not talking about Rachel, Bobby, Guy,
or Gordon this time. Join us this week and be inspired by the
chefs who inspired today's celebrity chefs!
Le Cuisine de France™
Traveling Through France! We will be taking a trip through
France, and no need to pack our bags for this trip either! Get
your passports and taste buds ready for France on this
week's exciting adventure!
You Bake Me Happy!™
You Bake me Happy! Fresh from the oven, it's breads,
biscuits and cakes. The Bakery is Open!
Southern Comfort™
Road trip!! Take a tour of the deep South with its rich
history of food. Join the fun……..I think there's room in the
car for one more!
Sound like fun? Now that we've given you lots of reasons WHY you might want to send your kids and teens to Camp Can-I-Cook®, find out WHERE to go here>>
(LINK TO LOCATION PAGE)