Thyme for Kids… a family, food, and franchising blog
With over 4 million viewers daily and broadcast in 118 countries, we were a tiny bit thrilled to see our Young Chefs Academy chefs on The Dr. Oz Show!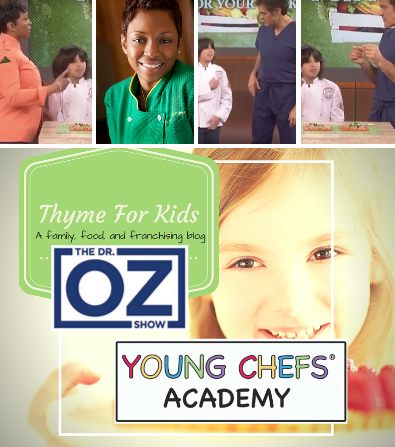 Search the Dr. Oz Show's website for "kids cooking" and 3440 results show up. Clearly, they're dedicated to kids nutrition, food safety, kids health, and our favorite subject… cooking with kids!
April 10th's show, the "Biggest Bang For Your Buck" featured budget boosting tips to stay healthy without breaking the bank. Celebrity chef Danielle Saunders, (who cooks for Oprah and Tom Hanks) past winner of the Food Network's Chopped was the guest, as well as a few "up and coming chefs" from… you guessed it! Young Chefs Academy!
Josh Reisner, long time Forest Hills YCA student and
top 10 finalist on Master Chef Jr.
was a guest on the show! Chef Danielle helped Josh plan his next weekly dinner party with pate-substitute, liverwurst - Josh was charming, knowledgeable, and an excellent guest. We are so proud of Josh (in his well-earned YCA Master Chef Jacket!).
Click here to see how you can earn your own!
Taped questions from 12-year old Mora and Lucas and 14-year old Victoria were filmed from
Young Chefs Academy, Marlboro, New Jersey
. The kids asked Chef Danielle relevant questions about berries, salmon, and kale chips.
The Young Chefs Academy kids did an amazing job and we couldn't be more proud! Chefs Hats off to you all!