Thyme for Kids… a family, food, and franchising blog
Food Network Magazine's March 2015 issue with Young Chefs Academy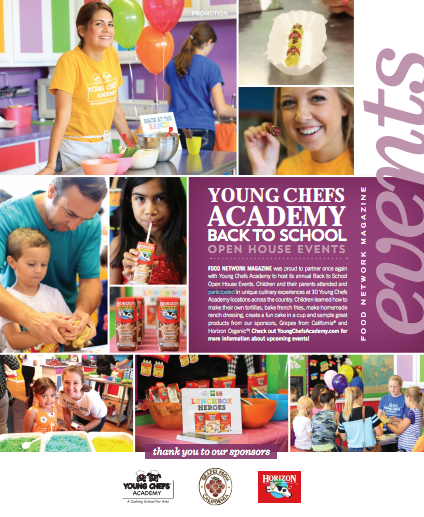 Food Network Magazine's March 2015 issue says, "FOOD NETWORK MAGAZINE was proud to partner once again with Young Chefs Academy to host its annual Back to School Open House Events. Children and their parents attended and participated in unique culinary experiences at 10 Young Chefs Academy locations across the country. Children learned how to make their own tortillas, bake french fries, make homemade ranch dressing, create a fun cake in a cup and sample great products from our sponsors, Grapes from California® and Horizon Organic®! Check out
YoungChefsAcademy.com
for more information about upcoming events!"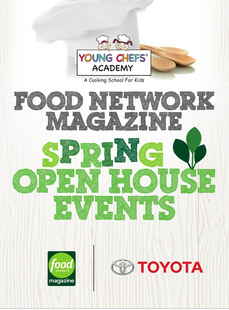 We are always excited to partner with the Food Network Family, and "open house" events like these have become a favorite. As featured in Food Network Magazine's first-ever kids-themed magazine, Young Chefs Academy locations across the United States brought the 2012 and 2013 "Food Network Magazine Kids" edition to life with fun and interactive experiences! Families visited their local YCA for a host of Food Network fun! The "Food Network Magazine Back to School Open House Event" featured: Cooking Stations, Back-to-School snack making, Hands-on games and activities, Sweepstakes prizes, Sponsor samples and more!
Anytime you and your kids want to get inspired, sharpen your kitchen skills, see clever culinary how-to's… all for free, our Open Houses are always open! Join our
Mailing List
and get the latest Open House news!