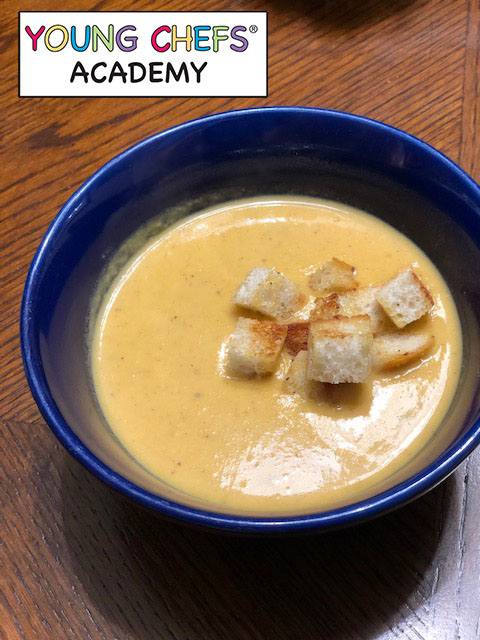 We're so excited that "soup season" is finally here again!! Can you imagine...snuggled up close to a warm, crackling fire with a delicious, hearty soup? Sounds like a little slice of heaven, right?
We have a doozy of a recipe to share using seasonal ingredients for this delicately rich dish....Creamy Butternut Squash Soup with Herbed Croutons.


Although the butternut squash (or known as butternut pumpkins in Australia or New Zealand) is considered a fruit, this variety of squash is moist, nutty, and sweet...lending itself as a showstopper for many savory dishes.
So, throw some logs on the fire as you finish up this lovely recipe, kick back in your favorite, cozy chair and ENJOY!
---
Creamy Butternut Squash Soup with Herbed Croutons
Ingredients:

2 tablespoons butter
1 medium onion, finely chopped (1 cup)
2 small garlic cloves, minced
Coarse salt and freshly ground pepper
2 stems fresh rosemary
4 fresh sage leaves
2 pounds butternut squash, peeled, seeded, and cut into 2-inch cubes
1 pound Yukon Gold potatoes (about 2 medium), peeled and cut into 2-inch cubes
3 cups low-sodium chicken stock, plus more if needed
¾ cup heavy cream, optional
2 cups water, plus more if needed

1/4 cup finely chopped fresh flat-leaf parsley
2 teaspoons finely chopped fresh sage
1 teaspoon finely chopped fresh rosemary
6 tablespoons heavy cream
1 small baguette (10 inches long) cut into 1inch size pieces
Coarse salt and freshly ground pepper
Directions:
Melt butter in a medium stockpot over medium heat. Add onion, garlic, and 1 teaspoon salt. Cook, stirring occasionally, until onion is translucent, about 5 minutes.
Place rosemary and sage on a small square of cheesecloth, and tie with kitchen string. Stir in the herb sachet, squash, potatoes, stock, and water. Bring to a boil, then reduce heat to a simmer, and cook until vegetables are soft, about 15 minutes. Discard herb sachet. Add the cream if using. Let cool slightly.
Working in batches, puree soup in a blender until smooth. Adjust to desired consistency with stock or water. (Soup can be made up to 2 days ahead; warm over low heat.) Season with salt and pepper. Serve with herbed croutons.
For the herbed croutons: Preheat the oven to 375° F Mix herbs and cream in a medium bowl. Add the bread with cream mixture and toss to coat. Season with salt and pepper. Place bread on a baking sheet lined with parchment paper, spread out in a single layer, and bake for 8 - 10 minutes or until just browned and crisp.
Croutons will keep, covered, for up to 2 days.

Yield: 8 servings